Do you think doctors should have conversations with their patients about their options for end-of-life care? In Massachusetts alone, only 17% of residents have had the conversation with their clinicians.
Many medical practitioners, while excellent at their craft, lack the training to begin crucial conversations about end-of-life care with their patients. We have talked to clinicians from all over the country, and overwhelmingly they offered these three reasons why more doctors haven't had the conversation about end-of-life care options with their patients: lack of training, lack of time and no compensation.
In our experience training will take place and time will be found IF there is payment for these critical conversations. CMS's proposed payment to clinicians is critical for moving the needle on advance care planning. Incentivizing these conversations and compensating providers for their time can help close the gaps between providers' actions and their patients' needs.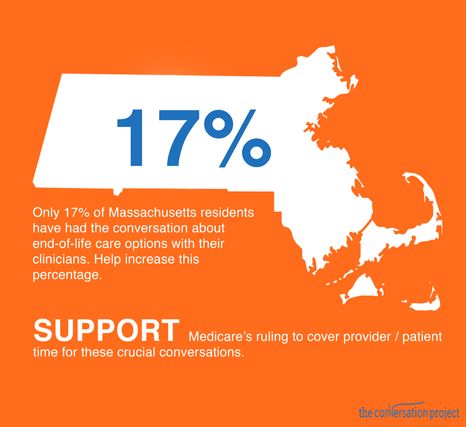 Last month, federal healthcare officials proposed that Medicare begin compensating doctors who have the conversation about end-of-life care options with their patients. Since launching The Conversation Project in 2012, we've collaborated with many likeminded organizations and institutions to guide and support this proposed ruling, and we're thrilled by this progress. We hope this proposal swiftly goes into effect January 2016. While we celebrate these successes, there is still more work to do, and there are still ways for YOU to help push this plan into formalized action.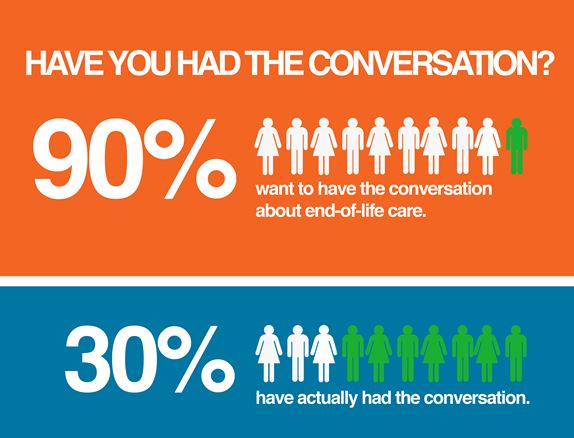 An important part of the federal rulemaking process is the public commenting period, where individuals, groups and organizations can provide feedback on proposed rulings. The ruling to revise the Medicare payment program is now open to public comment. This is your opportunity to voice what matters to you, and the deadline is September 8th 11:59 PM.
Here are the two ways you can support this ruling and contribute YOUR opinion:
1. Electronically: You may submit comments on this regulation by visiting Revisions to Payment Policies under the Physician Fee Schedule and Other Revisions to Part B for CY 2016
Click on the green button that reads "SUBMIT A FORMAL COMMENT"



A form will drop down for you to complete and submit.
2. Snail Mail: Written comments can be sent to the following address
Centers for Medicare & Medicaid Services
Department of Health and Human Services
CMS-1612-P 2
Attention: CMS-1631-P,
P.O. Box 8013,
Baltimore, MD 21244-8013.
Please allow sufficient time for mailed comments to be received before the close of the comment period.
Quick Tips
• Read and understand the regulatory document you are commenting on.
• Be concise and support your claims.
• Personalize your comment with an anecdote or personal story about either a good death that highlights the benefits of having the conversation about end-of-life care options with your doctor or a hard death that occurred because a provider didn't know the patient's end-of-life care plan.
Do what's right for your loved ones and help ensure they have the guidance and support they deserve at the end of their lives. Submit your comment on this ruling.
4 Responses