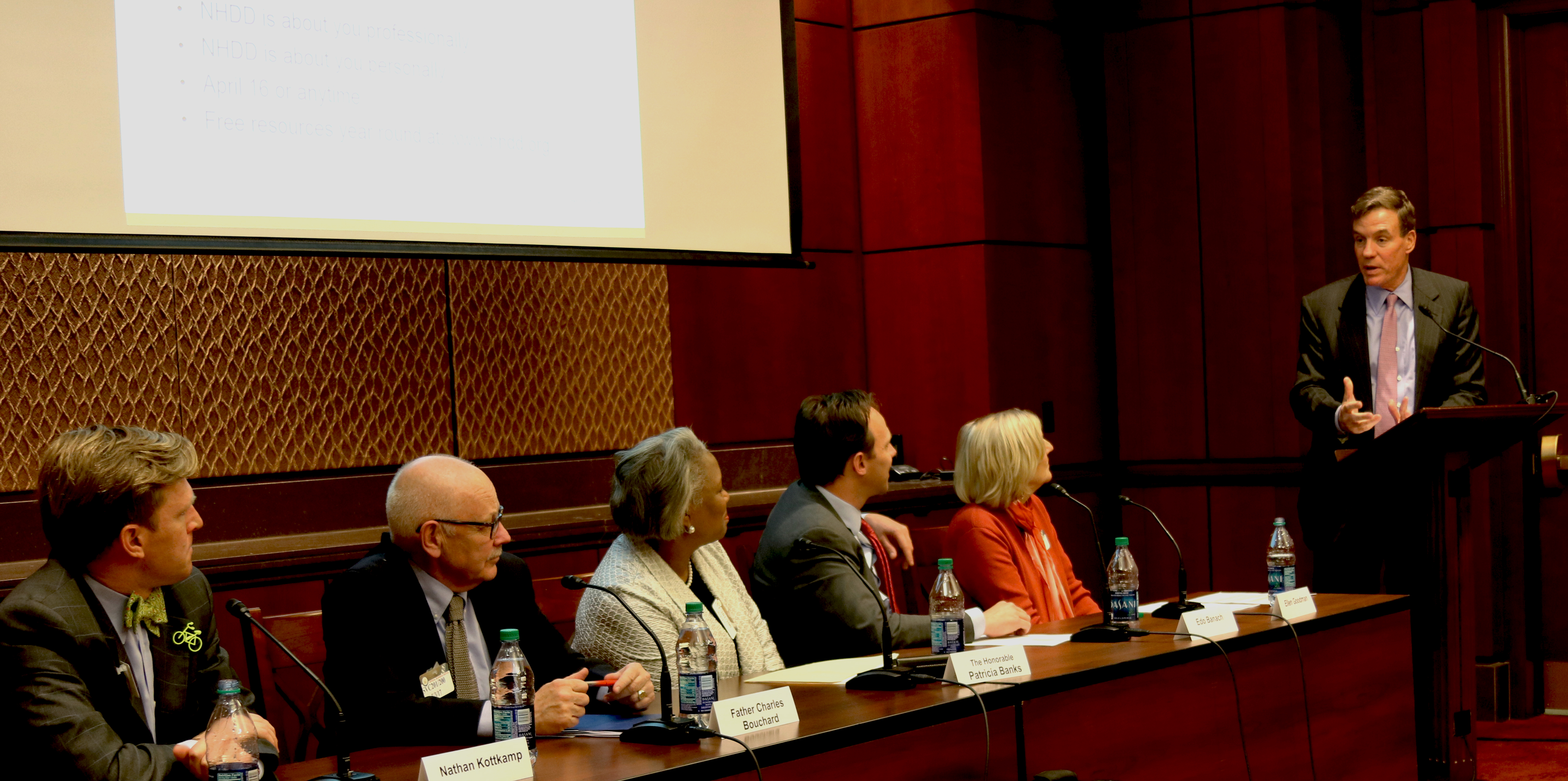 While most of Washington roiled with debate over the health care bill in the House of Representatives, an event with a starkly different tone took place on Capitol Hill. Last week, stakeholders of all political persuasions gathered to celebrate 10 years of educating the public and health care providers about the vital importance of advance care planning through National Healthcare Decisions Day (NHDD). The Conversation Project partnered with the National Hospice and Palliative Care Organization, the Pew Charitable Trusts, and the American Bar Association to host a congressional briefing and panel discussion.
A movement started by Nathan Kottkamp, Partner at McGuireWoods, LLP, after his years of experience on hospital ethics committees, National Healthcare Decisions Day has reached millions of people across the country and beyond in the decade since its founding. Each year on April 16, health care organizations, faith-based organizations, the legal community, and many others join together to highlight the importance of making advance health care decisions.
At the briefing, Ellen Goodman, Co-Founder of The Conversation Project, moderated a panel discussion with NHDD champions: Nathan Kottkamp; Edo Banach, CEO of the National Hospice and Palliative Care Organization; Judge Patricia Banks on behalf of the American Bar Association; and Father Charles Bouchard of the Catholic Health Association. Senator Mark Warner (D-VA) and Congressman Earl Blumenauer (D- OR), reaffirmed their leadership commitment to advance care planning policy. Both stressed that this is an issue that everyone — regardless of their political leanings — can get behind.
Like every person who engages with NHDD, each panelist offered a personal perspective. Father Bouchard recited a quote from Daniel Callahan (from The Troubled Dream of Life) that nicely summarizes what the panel advocated for:
"We cannot, or are unlikely to, find a meaning in death entirely on our own, even if this seems the demand placed upon us. . . . We need the help of others, of a community whose meaning we can share, making it our own with the same strength as if we discovered it ourselves . . . ."
You, too, can be part of this growing movement. Mark your calendar for April 16, 2018, and visit www.nhdd.org to learn to how to get started.