In her heartfelt and poignant New York Times op-ed published last month, Ellen Goodman recalls the "hard" deaths of her father and mother, describing the lasting impact of her family's denial and the "silence that surrounded [her family's] inability to talk about what [they] all knew" during her parents' final years. Sharing her story with others helped Goodman realize that too many people die in a way they would not choose and too many survivors are left feeling depressed, guilty and uncertain about whether they've done the right thing. You can read her moving op-ed here.
Have you shared your story? Have you had the conversation about what matters to you? New York Times readers did and we read each and every one of the 346 comments. We were inspired and encouraged by how these stories reveal the public's desire to talk about end-of-life care. We've compiled ten amazing stories shared by readers, though it was difficult to choose only ten. We hope it moves you to share your story with us.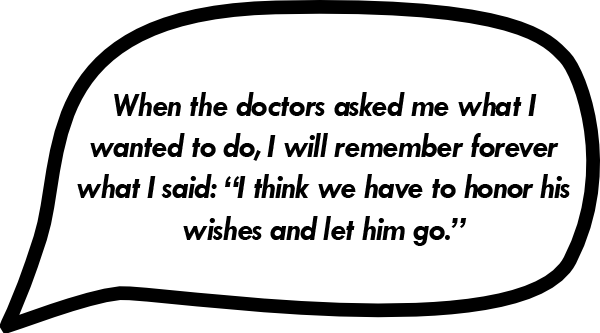 David Forster
Pound Ridge, NY
My father had a living will and had signed a DNR. When he was taken off his blood thinner in the hospital because of a hematoma as a result of hitting his head in a fall (he was 87), he experienced a heart attack. When the doctors asked me what I wanted to do, I will remember forever what I said: "I think we have to honor his wishes and let him go." I don't know when he prepared for the end, but I am grateful he took the initiative and relieved me of some of the pain I nevertheless feel. I would encourage everyone whose loved ones are still compos mentis to do as my dad did and write a living will.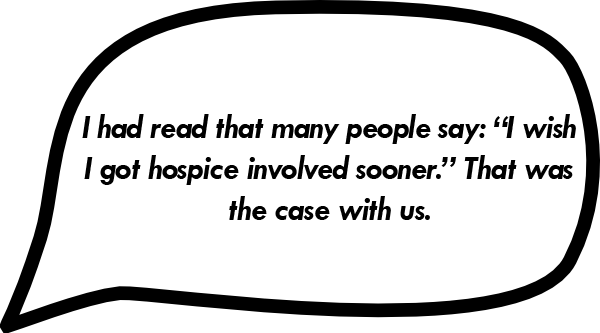 Liza Szefel
Lancaster, NY
My mother just passed away two weeks ago. She said she wanted to stay at home but as her health deteriorated she refused hospice at-home care. Six days before she passed we finally got hospice involved. They gave us such valuable information (e.g. that her body was shutting down so we no longer needed to feed her), the social worker surprised us all by helping us to think of important issues we did not think of, and they were genuinely caring—wonderful with us and my mom. I think my mother (and her generation?) thought hospice involvement meant being drugged up. So, maybe if you are lucky enough to have this conversation with your older parent, get a more complete picture of all the services hospice provides. I had read that many people say: "I wish I got hospice involved sooner." That was the case with us. And, I have to say, my mom and I have always been big fans of Ellen Goodman (who once responded to one of my mother's letters). So glad to learn of her work on this project.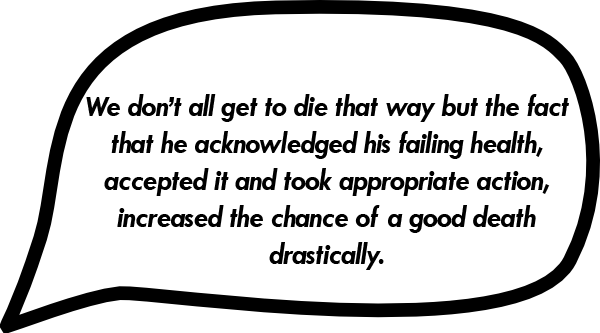 Kvd
St. Louis, MO
My father died at home 3 years after an accumulation of sub acute medical issues imposed upon chronic conditions. None of the individual specialists he saw determined his condition as terminal, but he knew and we knew. He organized all his financial affairs, filed paperwork to donate his body to science, and detailed specifics of how he wanted to spend the last weeks of his life to his family. He died about 6 weeks later, exactly the way he wanted. He had a good death. He was lucky and we were lucky. We don't all get to die that way but the fact that he acknowledged his failing health, accepted it and took appropriate action, increased the chance of a good death drastically. Don't ever wait for the medical field to address these issues, it might happen but more likely not or too late.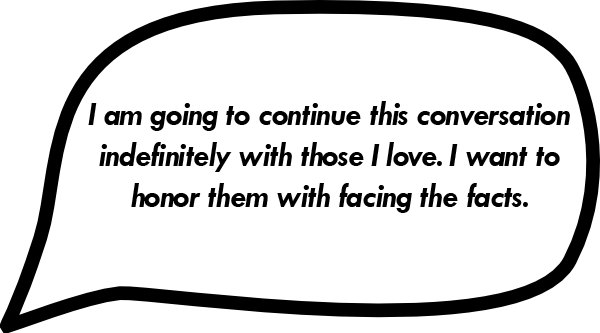 Nova
Pullman, WA
I am overwhelmed at the moment. My brother-in-law fought cancer for three years, and tonight lost that battle. With that thought, I am grateful for his past three years of life. He lived those years vividly and fully and savored every moment. Death does come sometimes without warning and it can be very quick. I take care of my mother and we have had "the conversation"– many times in fact. She has taken care of the burial arrangements. I'm her power of attorney, and I've had to make medical decisions for her. This is a process. It must be embraced. Our family has been fortunate to have had my mom's upfront attitude (she is a retired nurse and has seen it all) about letting go and living each day well. Death is so final. I am going to continue this conversation indefinitely with those I love. I want to honor them with facing the facts. Thank you.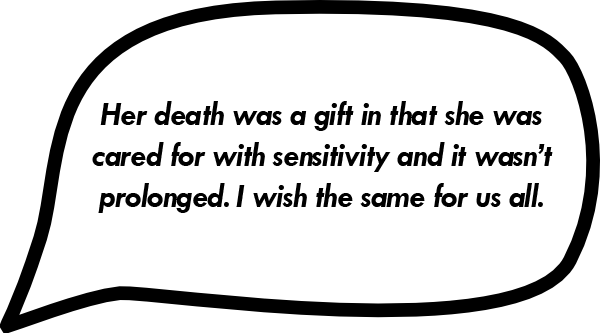 Nancyc
North Carolina
In 2008, I moved from NJ to live with, and care for my then 84-year-old mother. She had mild Alzheimer's disease and heart issues. It was a tough couple of years on and off, negotiating the several medical crises, dementia and falls. As a certified nurse case manager with 15 years of home care experience, I was uniquely qualified to help mom through the final period of her life. I had "ottoman talks" with her, where I sat on the ottoman of her Stressless chair, and looked her right in the eyes and told her the truth, and asked the necessary questions. We went to the funeral home and she signed the papers that gave her instructions for how she wanted her body dealt with. I became her medical power of attorney, and I sat in on all of her appointments with her primary doctor—a geriatrician. I referred her to home hospice care (you can self-refer by the way) in the early months, when her 4 ER trips in 6 weeks led me to think she'd go quickly. She didn't go quickly. She stabilized, and we had a good nearly 2 years before her final and fairly quick fatal last stroke. I had her feeding tube removed and asked the hospice team to arrange her immediate transfer to the inpatient hospice nearby. She died peacefully about 10 days later. Her death was a gift in that she was cared for with sensitivity and it wasn't prolonged. I wish the same for us all.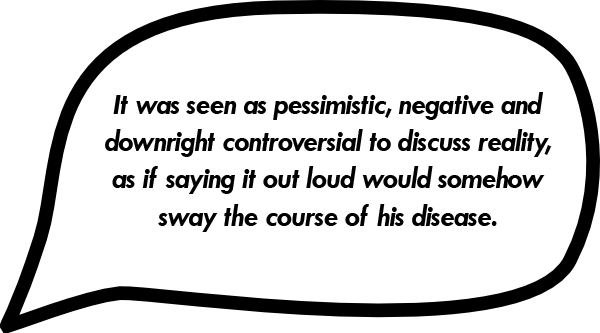 NYC Joey
New York, NY
Thank you, Ms. Goodman, for helping to launch an organization that helps people initiate conversations on this very difficult topic. My father died almost three years ago- a truly horrible death from a very aggressive type of cancer. While it should have been clear from the start that his prognosis was never going to be good, there was no room for a real conversation. It was seen as pessimistic, negative and downright controversial to discuss reality, as if saying it out loud would somehow sway the course of his disease. As such, my last real conversation with him of any substance was on the phone with me only able to understand a third of what he was saying because the cancer had progressed rapidly. Not much of a conversation. Try as I do comes to terms with the situation; it haunts and hurts to this day.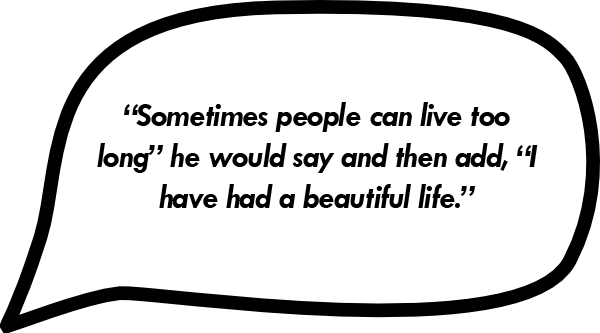 Luke
Rochester, NY
My dad passed Monday after suffering a stroke last Friday. He had just turned 89, and said this would be his last birthday cake. He did not want to go through another winter and his goal was to see his grandson graduate from high school, which he did three days prior to the stroke. "Sometimes people can live too long" he would say and then add, "I have had a beautiful life." He has been suffering from congestive heart failure, afib and a fully torn rotator cuff. He had a DNR, and said he never wanted to be in a nursing home or be a burden. In NYC health proxy could override a DNR. We (my 90 year old mom) had to decide whether to put him on a ventilator with a tracheostomy or pursue palliative care. The ventilator would probably last from several weeks to the end of life. Months of therapy would maybe give him the ability to say one or two words. Mom said it was the most difficult decision she has ever made, and I agree. Intellectually, we knew palliative care was the best, but emotionally we still wanted him around. Our wonderful doctor said, sometimes you need to take on the guilt and emotional burden to make the best decision for the patient. What would he want? He received the most compassionate and excellent care in the palliative care unit. Yesterday, we discussed our decision, and I feel at peace knowing we had honored his wishes. But I will forever miss him.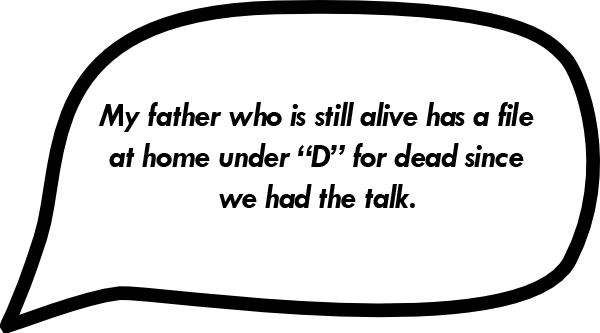 Amy A.
Heartland
My aging parents had the conversation with us many years ago, and it was amazing to KNOW my mother's wishes when she got dementia. If there is such a thing as a "good death" she had it after ten years of dementia. Hospice came in and our family rallied. My father who is still alive has a file at home under "D" for dead since we had the talk.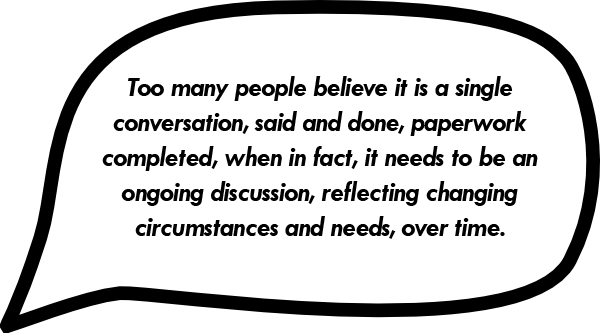 Bebe Guill
Durham, NC
Having "the conversation" with your family is not enough. Too many people believe it is a single conversation, said and done, paperwork completed, when in fact, it needs to be an ongoing discussion, reflecting changing circumstances and needs, over time. I meet monthly over dinner with a small group of peers, aged 58 to 75, where the agenda is to share our wishes, questions and fears about end of life. Our conversations have helped me sort through and better articulate my values and expectations. When my time comes, these friends have committed to being available to my adult children, who live in distant cities, to answer questions and/or relieve uncertainty about "what I would really want." My children will have my Advanced Directives, Health Care Power of Attorney, etc. But they will also have the support of my peer group to rely on for comfort and help in what can often be angst ridden, muddy end of life decision making process.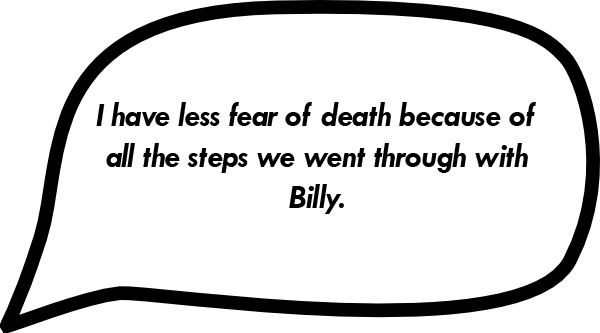 Gudrun
Independence, NY
I prepared for a good part of my life to be there for Billy as he became more and more ill. My husband supported me. Billy died at age 40 from Huntington's disease at my home. He was diagnosed at about age 18.
Billy did the lion share of becoming more and more ill. He lived in several other households as well as trying two different nursing homes. He finally died at my home where he had lived for about a year—he had also spent summer vacations with us to give other caregivers a break.
We were unable to use the hospital anymore because Billy could not communicate well enough to explain things with strangers but we who knew him could communicate what he wanted. I had been a practicing RN for many years—always keeping in mind I may be using skills with Billy sometime.
He died at home with my total support.
I recommend to everybody to pitch in and stick with the dying person that is close to you. I was very exhausted when he died but it was an event I am grateful I witnessed, and I had more strength than I knew. It did not damage me whatsoever. On the contrary, I have less fear of death because of all the steps we went through with Billy.
3 Responses