Reading the obituaries isn't everyone's idea of a good time but here at The Conversation Project we are pretty comfortable with death, and most importantly, fascinated by how people lived and spent their final days.
That's what makes us so captivated by The New York Times summer series, "Not Forgotten"  — a toast to life and loved ones lost — where they wind back the clock on their favorite obits going all the way back to 1851. Fun Fact: There have been more than 200,000 obituaries published in the New York Times during the past 165 years.
We've picked our top three favorites below, but we highly recommend checking out the New York Times site and getting lost in all of the amazing stories. It's a true celebration of life and loss.
Have you written your obit? What would you want it to say? Feel free to comment below and share your thoughts about this unique series in the NY Times.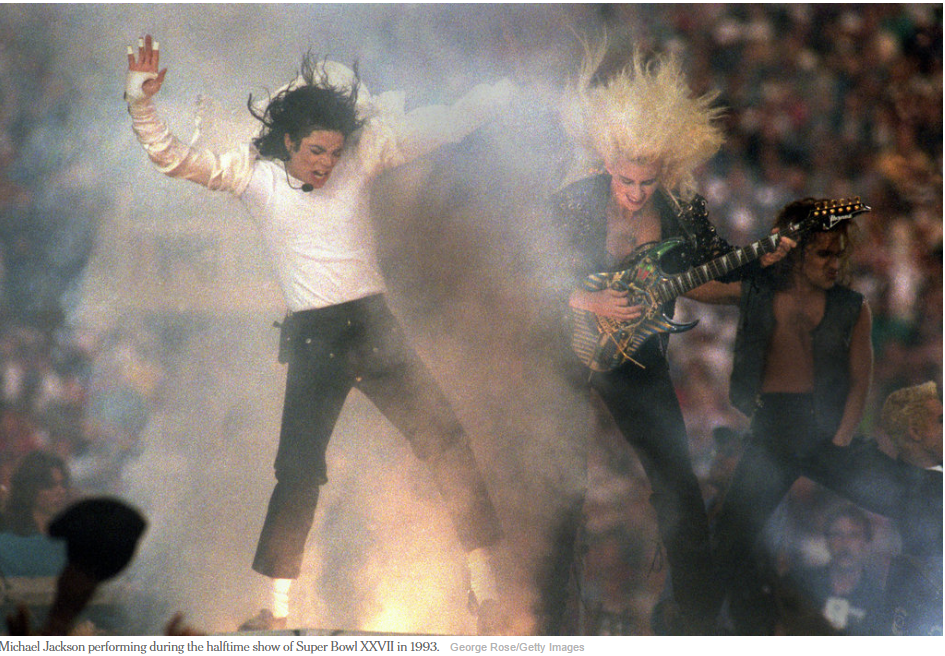 When Michael Joseph Jackson was born into a large family in a small house in Gary, Ind., on Aug. 29, 1958, no one could have imagined that he would become perhaps the most recognizable entertainer on the planet. On the king of pop's birthday, Not Forgotten takes you back through his life and music.
Jackson's rise was swift. By the time he was 10, he and his brothers were pop sensations performing as the Jackson 5. The group had four No. 1 Motown hits in a little more than a year, including "I Want You Back," all of which featured Michael's ebullient high-pitched voice.
By 20, Jackson wanted to break away from his overbearing father, his demanding siblings and the Jackson 5 sound. His first solo album, "Off the Wall," may be the quintessential recording of the disco era. It featured "Don't Stop 'Til You Get Enough," for which Jackson sang with a flirtatious falsetto.
Jackson's next album was "Thriller," which was released in 1982 and became the best-selling album of all time. It won eight Grammy Awards, spent two years on the Billboard album chart and sold more than 100 million copies around the world. Jackson's dancing and innovative music videos, especially the one for the title track "Thriller," helped redefine the medium and open MTV to black musicians.
Five years later, "Bad" was released. It was also hugely successful, with five No. 1 singles and a video for the title track that was directed by Martin Scorsese.
After "Bad" the bizarre details of Jackson's personal life often overshadowed his abilities as a musician and entertainer. His other albums include "Dangerous" (1991) and "HIStory," and although they all did well commercially they never approached the world-beating success of "Thriller."
Jackson died on June 25, 2009, from an overdose of the anesthetic propofol. There was a worldwide outpouring of grief. Radio stations played marathons of his music. And fans were left to decide which Jackson they would remember, as the pop music critic Jon Pareles wrote in an appraisal in The New York Times:
The unsurpassed entertainer, the gifted and driven song-and-dance man who wielded rhythm, melody, texture and image to create and promote the best-selling album of all time, "Thriller"? Or the bizarre figure he became after he failed in his stated ambition to outsell "Thriller," and after the gleaming fantasy gave way to tabloid revelations, bitter rejoinders and the long public silence he was scheduled to break next month?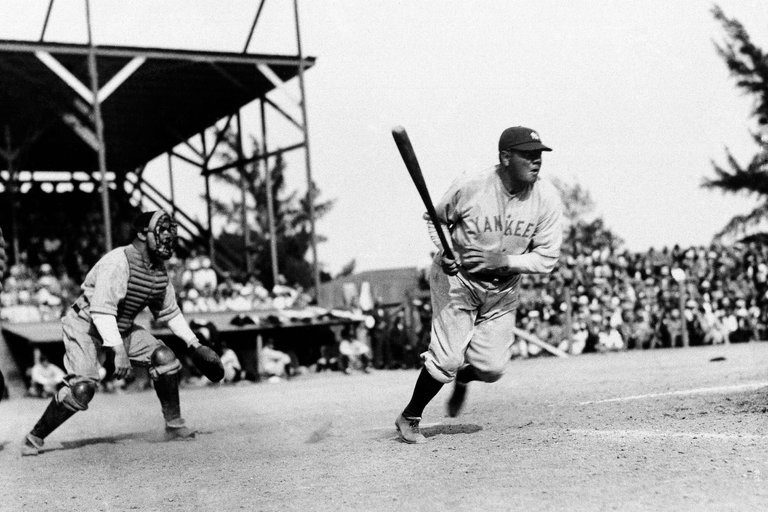 The Sultan of Swat. The Caliph of Clout. The Great Bambino. When baseball fans hear these monikers, nearly 70 years after Babe Ruth died on Aug. 16, 1948, they're taken back to the golden age of baseball, when one charismatic player ruled the sport by smacking more home runs than entire teams, changing the game in the process.
But before Ruth tantalized fans with his prodigious power, he was practically helpless. From the time he was 7 years old, Ruth grew up in St. Mary's Industrial School for Boys, a reformatory and orphanage for children in Baltimore. He might have amounted to nothing without the help of one dedicated mentor.
George Herman Ruth Jr. was born in Baltimore on Feb. 6, 1895. His mother was the former Katherine Schamberger. He was a rambunctious child who routinely skipped school, drank and taunted local police officers around his home. He became so unruly that his parents sent him to St. Mary's, a notoriously strict institution, although he pleaded with them not to.
At St. Mary's, Ruth had to adhere to a grinding schedule of school, prayer and work, which left no time for carousing. His parents had signed over custodial rights to the school and essentially washed their hands of him, leaving Ruth alone and desperately in need of a father figure.
Then he met Brother Matthias, a brawny, 6-foot-6 disciplinarian and assistant athletic director at St. Mary's, who took to Ruth immediately. Matthias was widely credited with introducing Ruth to baseball. They spent hours together honing Ruth's skills, both as a hitter and a left-handed pitcher.
"It was at St. Mary's that I met and learned to love the greatest man I've ever known," Ruth wrote about Matthias in his 1948 autobiography, "The Babe Ruth Story."
Ruth learned to play during the dead-ball era of the early 20th century, when hitters swung down on the ball, kept it inside the park and relied on speed as their greatest asset. Baseball was strategic, built on grounders, bunts and stolen bases instead of power.
Matthias had a different approach. He belted majestic fly balls deep into the St. Mary's outfield. The impressionable Ruth copied Matthias's approach, which led to his unprecedented gift for hitting bombs.
Word of Ruth's talents spread, and Jack Dunn, owner of the minor league Baltimore Orioles, came to watch him play. Dunn was so impressed that he became Ruth's legal guardian in order to sign the 19-year-old. On his arrival in the clubhouse, Orioles players referred to the burly Ruth as "Jack's newest babe," coining one of the great nicknames in American sports history.
Ruth's career with the Orioles was short. That summer he was acquired by the Boston Red Sox, for whom he would win his first three championships as a pitcher and an outfielder.
But the Red Sox made a grave mistake when they sold Ruth to the rival New York Yankees in 1920. Many bleacher historians blame this error for the Red Sox' 86-year championship drought — the so-called Curse of the Bambino.
Ruth played 15 seasons with the Bombers, amassing four more championships. His records include a .690 slugging percentage and 714 career home runs, a record that stood until Henry Aaron broke it on April 8, 1974.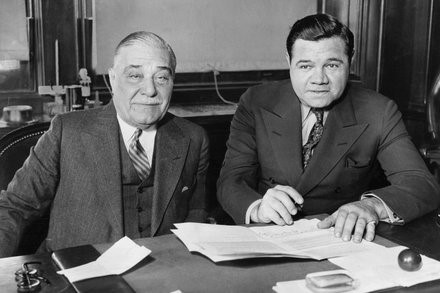 Babe Ruth signed his new contract with Jacob Ruppert in 1934, the last of the 15 seasons he played with the Yankees.
Ruth's place in baseball's pantheon was apparent to anyone who saw him play. He was part of baseball's first Hall of Fame class, in 1936, the year after he retired. An inveterate cigar smoker, he learned he had throat cancer a decade later and died from the disease on this day in 1948.
His Yankees teammate Joe Dugan probably summed up Ruth's larger-than-life stature best, elevating it to myth: "To understand him you had to understand this: He wasn't human."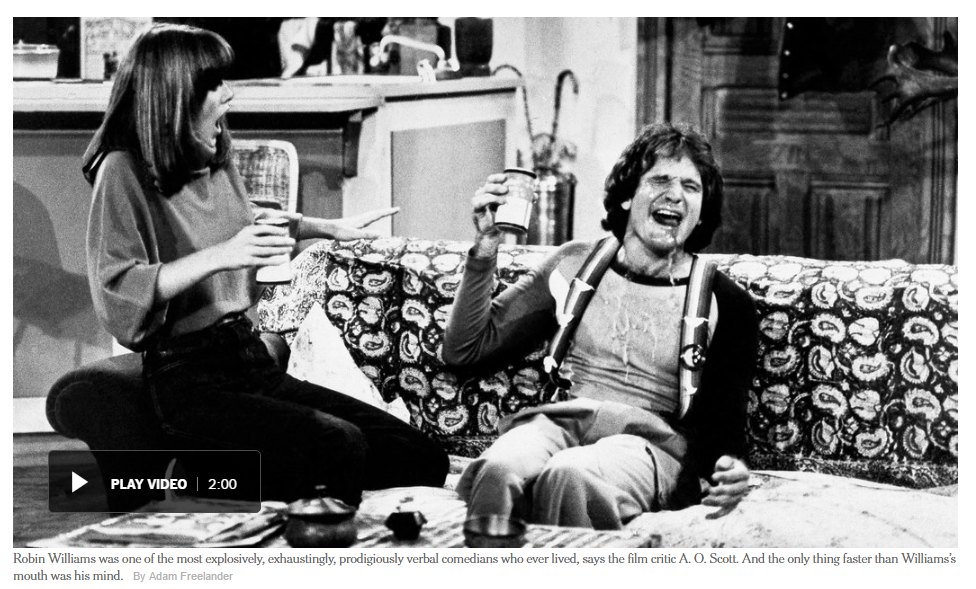 Robin Williams, an indefatigable, improvisational genius, arrived on screens as an alien and left as an Academy Award-winning actor.
After his death, two years ago today, The New York Times described him like this:
Onstage he was known for ricochet riffs on politics, social issues and cultural matters both high and low; tales of drug and alcohol abuse; lewd commentaries on relations between the sexes; and lightning-like improvisations on anything an audience member might toss at him. His gigs were always rife with frenetic, spot-on impersonations that included Hollywood stars, presidents, princes, prime ministers, popes and anonymous citizens of the world. His irreverence was legendary and uncurtailable.
We remember Williams with some of our favorite scenes and lines (some of which contain strong language), and encourage readers to do the same on Twitter using #tellnyt.
"Mork and Mindy" — 1978
"NA-NUU, NA-NUU"
Williams broke through to mainstream audiences on this quirky sitcom, in which he played Mork from Ork, a sweet, goofy alien who befriends a young Colorado woman.
"Good Morning, Vietnam" — 1987
"What is the demilitarized zone? Sounds like something from the 'Wizard of Oz.' Oh no, don't go in there."
Williams earned an Academy Award nomination for playing Adrian Cronauer, a chatty Armed Forces Radio host in Saigon in the 1960s. "This is the first role that calls upon me to do what I do best — me," he said.
"Aladdin" — 1992
"Rick 'em, rack 'em, rock 'em, rake! Stick that sword into that snake!" He voiced an unforgettably zany blue genie in the 1992 Walt Disney feature.
"Mrs. Doubtfire" — 1993
"Off your Mercedes, dear, you own that big expensive car out there? Oh, dear. Well, they say a man who has to buy a big car like that is trying to compensate for smaller genitals." Williams played an actor who cross-dressed as a British housekeeper to spend more time with his children in this 1993 family comedy.
"Good Will Hunting" — 1997
"You're an orphan, right? Do you think I know the first thing about how hard your life has been, how you feel, who you are, because I read 'Oliver Twist?' Does that encapsulate you?" Williams's Oscar-winning turn as a therapist working with a troubled prodigy, played by Matt Damon, offered him a rare serious role that took advantage of his wide-ranging talents.
"Death to Smoochy" — 2002
"Even when you're squeaky clean, you can still fall in the mud." Williams starred in this black comedy as Rainbow Randolph, a children's TV show host who is fired for taking bribes and replaced by an upstanding performer played by Edward Norton.
6 Responses