Fellow team members describe TCP's former Project Coordinator, Mandy Ferguson, as enthusiastic, dependable, and organized colleague, with a sunny disposition. For three years, Ferguson worked to spread The Conversation Project's mission to all demographics and communities across the U.S. – often bringing her twenty-something perspective to the table, reminding the team "It's always too soon until it's too late." Her primary responsibility, as described by herself, was "keeping this wonderful, creative, brainstorming, over-the-top, excited team on track," but she also helped Kate DeBartolo (National Field Manager) design TCP's field structure, edited the TCP Newsletter and worked on TCP's social media outreach. She brought energy to her work each and every day. In this delightful farewell Q & A, Ferguson describes her most rewarding experiences from working with The Conversation Project, her opinions about why it is so difficult for young people to have the conversation and her future career plans.
Q: How did you get involved with The Conversation Project?
Mandy: TCP was my first "real world" job, straight out of college. After I graduated, I was scouring the Internet, but nothing was panning out: interviews didn't go well or I wasn't getting called back. I put the job search on hold and went to Zambia to work in a maternal and child health clinic. While I was in Africa, my mom e-mailed me ajob posting for The Conversation Project and the Institute for Healthcare and Improvement. I had cited a white paper that IHI had published in my senior thesis so I was pretty familiar with IHI, and I had been reading Ellen Goodman's column for years. My gut response was, "there's no way I'm not applying for this job!" I went to this little Internet café in Livingston, Zambia, put together my application and sent it in. Luckily they called back.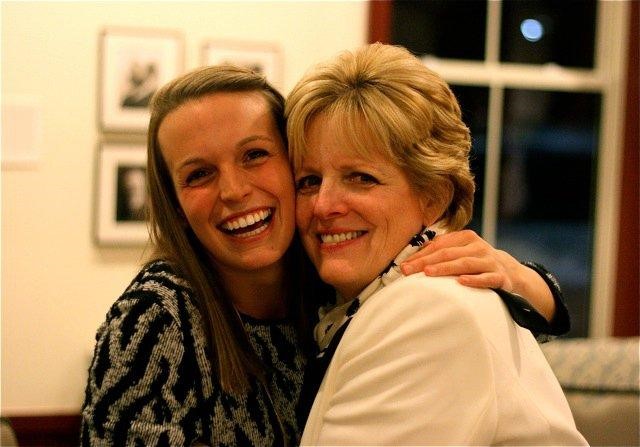 Mandy and Deb
Q: That's such an inspirational story! It's amazing that you took the time to help others while searching for work.  What was your most rewarding experience while working atTCP?
Mandy: Can I pick two? One was professionally rewarding and the other was  personally rewarding. Professionally: working with various communities to bring the Conversation Project to people where they work, meet, gather and pray. Seeing The Conversation Project grow and seeing more and more people bring [our resources] to their own communities and tailor those resources so they work better for them. It's remarkable. You would not believe how excited people are about end-of-life care and end-of-life care conversations. As we gain more awareness, more and more people approach us saying, "My book club needs this." "My church needs this." "My prison system needs this." "My hospital needs this." The Conversation Project can help people in all different realms. What other organization can help people in church and in prison?
Personally: working with such a wonderful team of strong female role models: Ellen, Harriet, Kate, Katie, Jane and Rosemary. To be a 25-year-old working for an organization of such lady power, I mean you couldn't ask for anything better for your first job out of college.
Q: What do you think keeps people in their twenties from having the conversation?
Mandy: It's got to be that we think we are invincible. We are young and healthy and spry, and there's nothing that could go wrong. I think it's really challenging for young people to face their own mortality.

Q: How do you think we can get across to Millennials that they need to have the conversation?
Mandy: I think TCP does a great job of making our resources user friendly and accessible. It's more about getting the word out to young people.  Young people would find this important and useful, especially as their parents age, but they just don't know about it or haven't seen the tools and resources. We should move the needle in the direction of young people thinking about it, and then talking about it and then eventually taking action. Start by saying, "I just heard about this project. What are your thoughts?" or "This is what I'm working on. Tell me what you think."
Q: What do you think are the benefits of having the conversation?
Mandy: I think the biggest benefit is having a clear understanding of what your loved ones want. Not having any ambiguity surrounding what my parents want at the end of their lives at this point in time is one of the most valuable gifts they can give me as a child.

Q: What's next for you after you leave The Conversation Project?
Mandy: I am going to the University of California, Berkeley to pursue a Master's in Public Health. I'll be in the department of Health Policy and Management, with a special focus on global health leadership. I'll be taking a little bit of a global turn, but I'll be working as a research assistant at the Tetric Center which also does work in EOL care policy, so The Conversation Project will still a part of my continued work. You can't get rid of me that easily!
3 Responses