If you took public transportation in Boston this fall, we hope that you saw the ads from our PSA Campaign. We launched the campaign in October with the goal of normalizing conversations about end-of-life care, connecting with people on an emotional level and then moving them to action. We wanted to promote the vital importance of having these conversations with loved ones around the kitchen table instead of in the ICU during a medical crisis.
The message of the campaign truly resonated with people and encouraged them to learn more. In the six weeks of the campaign, total website visits to The Conversation Project's website increased by over 170 percent and the number of first-time visitors increased by nearly 230 percent, compared with the prior six weeks. Downloads of the different resources available from our site increased as well. Website visitors from Boston accounted for 1,500 downloads during the campaign, up from about 975 in the six weeks before.
To see how people in the Boston area personally connected with the campaign, we went out to the subway stops where our ads were featured to interview individuals about having The Conversation. We're excited to share with you today the end result: our brand new PSA Campaign Video.
We know that many groups are interested in this "Man on the Street" approach and we wanted to share some of our hard-won lessons about producing such a video.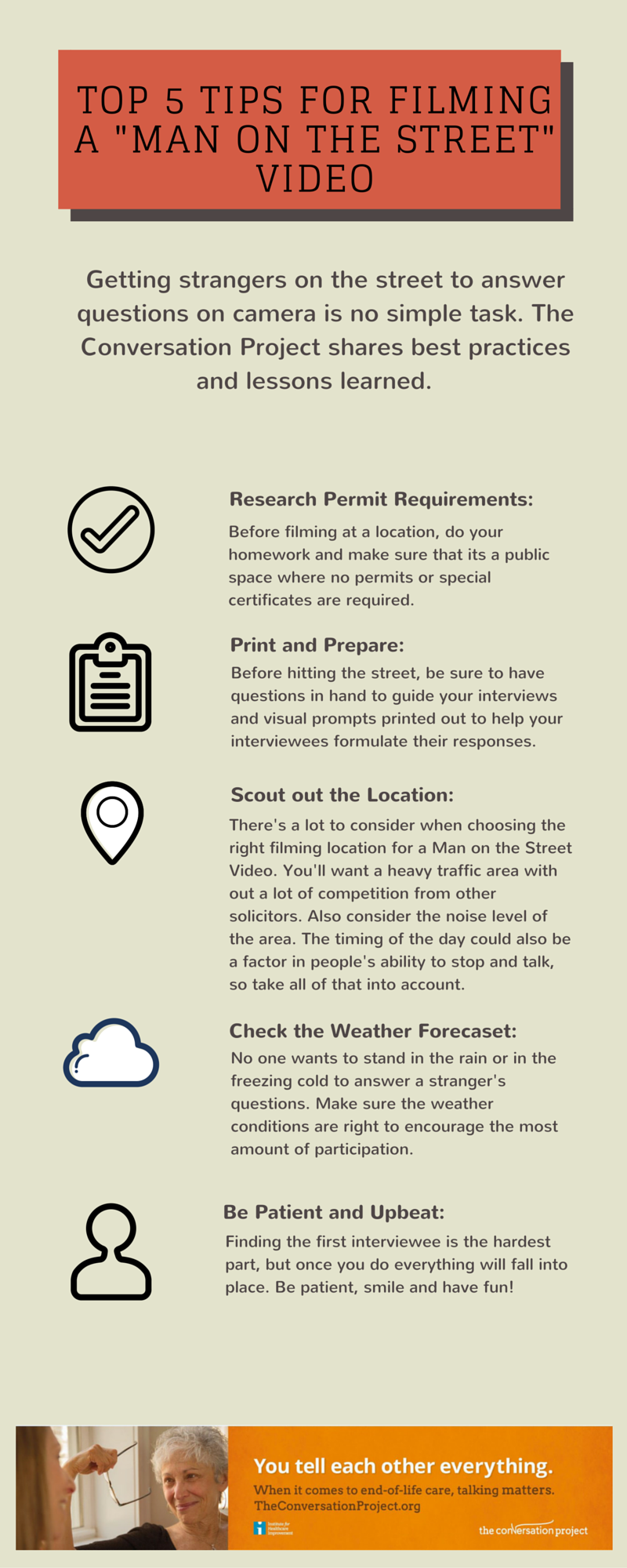 Filming the video wasn't as smooth as we had anticipated. Our plan to film inside the subway stations with our ads as the backdrop was foiled after learning from the Massachusetts Bay Transit Authority that we'd need a special permit (and a cool $1,500) to do so. So we quickly adjusted our approach. We photographed the ads at subways stops ahead of time and interviewed people right outside of the stations with print outs in hand to refresh the interviewee's memory.
The second week of the campaign, we set up our camera and were ready to record live reactions from a Cambridge T-stop. However, we quickly learned that it was difficult to have any conversation with passersby, let alone to ask people about end-of-life care planning and "The Conversation." Amidst a crowd of people handing out flyers, advertising tours and events, and selling different items around the station, there was fierce competition for people's attention. Even after moving to a quieter location, we still struggled to get busy Bostonians to talk with us. Three people with a camera on the corner of a street didn't exactly scream credibility.
Finally, after one brave interviewer spent her time with us, everything fell into place. As she shared her experience on camera others stopped to listen. We started getting requests from people interested in speaking with us and excited to share their stories. One man got a little too excited and kept shouting to people on the street that we were Fox 25 (even when repeatedly told otherwise).
We always say at The Conversation Project that "everyone has a story." It was interesting to see that even on the busy sidewalks of Harvard Square all it took was one person to share their experience to encourage complete strangers to participate. Story telling is such an important part of this work. As you'll see in this video, the people that we interviewed came from different walks of life, but each one connected with this issue. Each had something to say about what it meant to have conversations about end-of-life care. We hope that you enjoy this video, and we encourage you to share it with friends, family and loved ones on social media and during the holidays. Use it as a tool to raise awareness of the importance of having The Conversation and encourage story telling in your own home.
2 Responses