Banan (Haitian Creole for plantain) can be fried to make banan peze (fried plantains), it can be boiled to eat with either fish or eggs, or it can undergo mashing to be made into a dish similar to porridge (known as labouyi banan). When you eat banan, you can go several hours without going hungry. Its versatility allows you to do so much with it. And, because of these things, it is a valued staple in the Haitian person's diet. I can guarantee you that in almost every Haitian household across the U.S., it was one of the items Haitian people stocked up on when the severity of the COVID-19 pandemic dawned on us.
"Naomi, I need to go to the grocery store. I don't have anymore banan." My mom said to me in her Haitian accent as I was on the phone with her.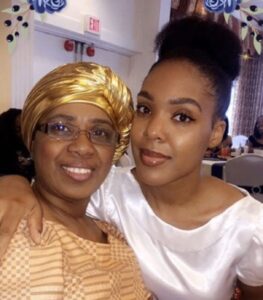 "Mummy, you don't need to leave the house just to buy some banan." I said to her with slight concern in my tone. My mom lives in an area of Massachusetts with some of the highest rates of COVID-19. Perhaps I was being dramatic, but banan didn't seem like a priority to me.
"But I want to make labouyi bannann."
"Mummy! Please don't go to the store for banan. You're old!"
"Ha! I'm old now?" I knew exactly what this question was alluding to and why she was mocking me. Prior to COVID-19, every time my mom would refer to herself as "old", I would quickly shoot back childishly, "Don't say that! You're not old." To me, old was synonymous to "near-death." And, heaven forbid, my mother would ever die.
Despite the fact that I've been working for The Conversation Project for several years, my mother's—my sweet, sweet mother's—mortality was something I struggled to bring myself to conceptualize. I have no qualm with ruminating on my own mortality, my friends', my relatives and my peers'. But my mother, the person who I have always known and who has always loved me, elicits a quivering lip when I think about death as it relates to her.
When my friend (who's only a few years older than I) lost her father, uncle and grandmother in the short span of two weeks due to COVID-19, I sobbed relentlessly as if it were my own loss. I could not help but keep thinking to myself that this could very well be my situation. My family and I (nor anyone, for that matter) are immune to this pandemic. There really is no good in pretending that we and the people who we love are not susceptible to the virus. My friend's losses knocked me into reality and brought me to gaze upon my mother's mortality.
What COVID-19 has done to me as well as my fellow millennials around the globe is make us come to terms with the fragility of our parents and grandparents. To be mortal is one thing. But to be mortal and fragile is another. COVID-19 lurks on all of us mortals but it threatens those who are fragile even more. Right now, to be fragile means to be over the age of 60, have a chronic illness and/or underlying health condition. My mother satisfies the criteria of fragility.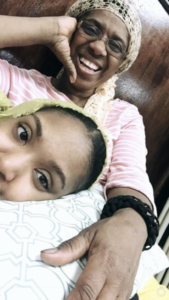 My mom goes to the grocery store to buy banan. But she makes sure to go in the early morning between 6-7:30 AM—the time grocery stores in her town have designated to those most vulnerable to COVID-19. She and I both acknowledge that she is *gulp* old. And, rather than pretending that COVID-19 isn't a threat, we talk about whether or not we would ever accept being placed on a ventilator, if we would want to try lesser-known drug treatments, what our faith has taught us about our dealings with death, and we have started to say "I love you" more.
What oddly brings me solace in the midst of this pandemic is that one day COVID-19 will be a thing of the past. However, death will always be a part of the human condition. Death is the pandemic (so to speak) that transcends era and generations. In all of its ugliness, COVID-19 has taught us how to live because we have the certainty of death on our tail. We have become more hyper-aware of our mortality and because of that are more inclined to cherish the time we spend with those who matter most to us.
Next week, after spending a couple of months in isolation, I'm going to stay with my mom. I anticipate us cooking together. I'll take some banan, place them under a stream of running warm water and she'll peel them. Perhaps we'll fry them or boil them or, maybe we'll slice them real thin to make chips. Either way, we'll do this side-by-side knowing that this life offers us only but a moment together.
Are you a millennial? What has this pandemic taught you about your own mortality as well as that of those who you love and are older than you? Comment below.
Naomi Fedna is a Project Coordinator for the Institute for Healthcare Improvement and is currently pursuing a Masters in Divinity at Harvard Divinity School.
3 Responses