I have never packed so many "I love you"s into such a short window of time. My grandmother, Carrie Mae, laid on her death bed as she was transitioning from this world to the unknown. She made it clear to our family eons ago that she wanted to die at home. She would say, "Send my body back to Missouri." It was a place too conservative and racist for her living, but she could be buried there. She was a southerner too big for the place of her origin. She made her way from Mississippi, to Missouri, and eventually settled in Massachusetts.
My grandmother had the unwanted tenant of cancer for the third time, this time it couldn't be evicted. It made itself at home and spread. Facing this challenge during covid was fraught. But my mother and I made the effort to make her final wishes a reality. A hospital bed replaced her queen-sized bed. Items on her nightstand were put away and narrow syringes, pill crushers and water took their place. Everything had to be shifted, we were making room for death.
I prepared the space with everything my grandmother treasured. T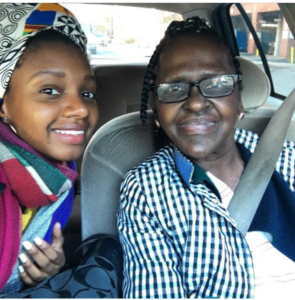 he sounds of Aretha Franklin and Teddy Pendergrass echoed softly throughout the day and evening. We diffused the aroma of geranium and frankincense. My mother and I washed my grandmother's body, replacing her hospital clothes and dressed her with a cozy blue nightdress. We kept her feet warm with fuzzy socks that hid the time she fell and broke her foot in a couple of places. We washed her hair, gently detangled it, and plaited it. And then I nested into bed with her. I confided in her about my future plans waiting for her usual assurance.
For her care, I asked her if she was in any pain, but most of her responses were incomprehensible. The nurse who came out to visit said that she could tell my grandmother was loved and assured me that the tiny pills I was to give my grandmother would eliminate any pain, quell her anxiety and make her comfortable. My faith had to extend to something slightly bigger than a mustard seed, and I kept her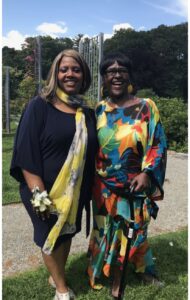 dosage times precisely.
My mother and I facetimed with my grandmother's friends and they would tell her encouraging words. Tell her how strong she was to not be hooked to anything. My grandfather, away getting his own treatment, would spend considerable time on the phone asking my grandmother to tell him that she loved him. My grandmother did manage to muster that phrase up and out to him. My grandmother would look to me, raise her pointer finger to her mouth for water. I'd respond tenderly, swiftly, and immediately. She still maintained a strong grip if she didn't want the covers on her pushing them aside, she favored her body weight to her left side. For the most part she was resting and taking what looked like an inward journey into herself that no one else had an invitation to.
The day she died, my mother and I were recuperating at home. My aunt had then taken over for the night shift. When my grandmother passed, I rose from bed and embraced my mother who had just lost her mother. There was more work to do, more promises to keep, and more tenderness to be given.
Want to keep connected to The Conversation Project? Sign-up for our newsletter(s), follow us on social media (Twitter, Facebook), download our conversation starter resources and feel free to reach us at ConversationProject@ihi.org.
8 Responses