Tracy Grafton, a hospice and palliative care social worker at Hackensack Meridian Health @ JFK Medical Center in central New Jersey, has always been passionate about end-of-life care. For almost a decade, she's set up a table on April 16th, National Health Care Decisions Day, in the hospital where her hospice is housed, to distribute information about advance directives. But a couple of years ago, she decided she wanted to do more. She asked her boss, "Do I have your permission to start a program here, a drop-in, once a month, where people can come and do advance directives if they want?" Her boss said, "Go for it!"
Coffee and Conversation
That was the genesis of "Coffee and Conversation," a drop-in session held the first Wednesday of every month from 3:00 pm to 6:00 pm. Tracy sets up in an Au Bon Pain in the hospital. She has materials spread out on the table (in Hindi, Chinese and Spanish as well as English). A notary is available for people who complete paperwork. Sometimes they just want to browse the literature. Sometimes they want to talk. Tracy is always ready to answer their questions and engage in conversation.
"Sometimes people come prepared with their documents already in hand. Sometimes people come and say, 'What is this all about?' We just meet people wherever they're at." Anyone who does fill out an advance directive gets a free beverage (donated by Au Bon Pain).
As part of the inpatient and outpatient registration, patients are asked if they have an advance directive. "Before, the answer to the question was tallied but then nothing further," says Tracy. "Now they get a card—what is an advance directive and why do I need one? You're invited to Coffee and Conversation." There are posters up around the hospital advertising it as well.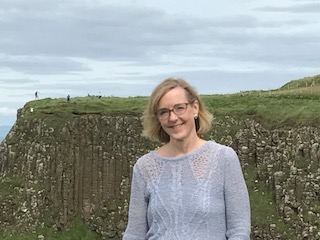 A new pilot project
In an effort to ensure better stewardship of patient's wishes, Tracy helped form a new subcommittee on the hospital's bioethics committee, focusing on the hospital's advance care planning processes. The subcommittee includes physicians, the directors of several departments, a representative from IT, a patient advocate, chaplains, and the end-of-life team.
They started a pilot project on one of the floors. The project involves strategically providing opportunities for all the patients on the floor to engage in a conversation about advance care planning. Most of the patients on this particular floor have chronic progressive illness, such as congestive heart failure, chronic obstructive pulmonary disease, or cancer. The goals of the pilot project include increasing the number of patients with completed, up-to-date advance directives and/or POLST (physician orders for life-sustaining treatment) documents in their medical record; and improving the hospital's internal system for storing and accessing these completed documents, and making sure they're honored.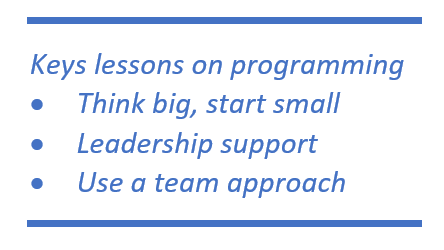 A third goal is giving patients greater access to professionally led conversations about end-of-life care. Tracy says initiating these conversations with patients is "best done as a team approach. Social workers and chaplains have a little more time and have the skill set for communication. They're bound to elicit a richer and more meaningful dialogue." It's also important to have buy-in from the doctors, and fortunately, the medical director for this floor is very supportive. Tracy notes, "The pilot project is going very well so far…I'm proud to say it's making a real difference!"
Lessons learned
In all of her many interactions with different kinds of people, what has Tracy learned? "You don't have the same conversation with every person," she says. "You have different skills, you match them to a certain situation. Your average healthy adult, you have a very introductory conversation." If someone has more advanced health issues, however, "you'd be remiss to not go further with them."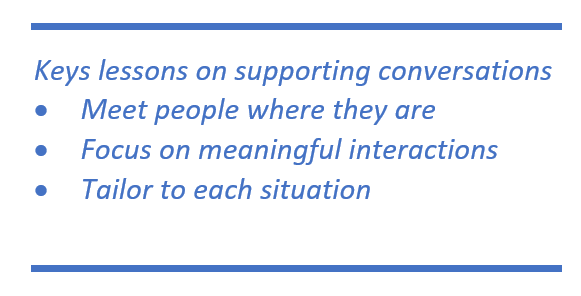 She also stresses the importance of meaningful interactions rather than "throwing papers at people." She believes that if people are engaged in the right way, completing the paperwork will naturally follow. "Once it makes sense to you, and you can see the applicability of it, then people go of course I want to do my documents, why wouldn't I?"
Finally, Tracy has learned to "think big and start small. You want to do things in a micro way. It's such important work, it deserves to be done well."
Want to connect with Tracy? Contact tracy.grafton@hackensackmeridian.org