To be honest, we're not quite sure who thought to themselves, "Hey, you know what would be fun? To create a game about death!" But someone did and it seems to have ignited a wave of groups/individuals who put the "death" in death match. Over the past few years, there has been a surge of games created with the intent to gather people around to laugh, play and have fun as they contemplate on a very serious matter: living and dying. Below is a list of games that will break the ice and make us a little bit more comfortable with talking about what matters most to us through the end of life. While we don't promote any one game in particular, we encourage you to click through the list and let us know how you plan on using them in your personal life and/or your programming (fees may apply for some of the games).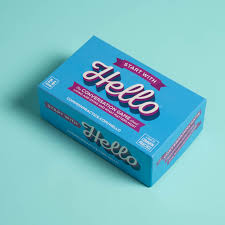 Hello is a conversation game. It's the easy, non-threatening way to start a conversation with your family and friends about what matters most to you. Many groups have organized Hello Game activities and then used our Conversation Starter Guide to help guide them through reflecting on their end-of-life values and wishes.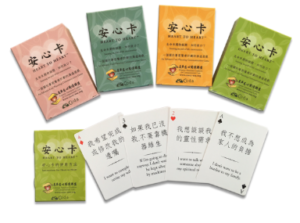 Heart to Heart® Cards are designed to make it easier for a family member, a caregiver, or a health provider to understand what a loved one wants through the end of life. Designed to help reach Chinese-speaking community members, each card is in English and Chinese. However, they can be used by anyone: perfectly healthy individuals who want family members or friends to know what they would like when their lives may be threatened by injury or disease. Each suit of cards represents a special need, with various issues printed on each card. These cards are part of a larger Heart to Heart® Café communication event that many groups are hosting, using our Conversation Starter Guide in Chinese as take-home tools.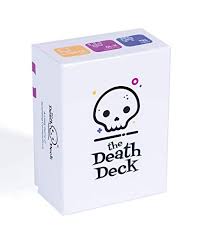 The Death Deck is a party game that lets you explore a topic we're all obsessed with but often afraid to discuss. Team up with partners or play in a group – you'll find out fascinating stuff about each other. Here's a sample question from the deck (leave your response in the comments below!): You get to relive one day in your life before you die. Which one would it be?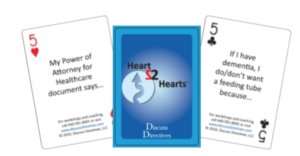 The Heart2Hearts deck of cards were invented in order to provide 52 conversation starters. You may find that you want to use them to play poker or as a regular deck of cards. Be prepared to have the most meaningful Heart2Hearts conversation of your life.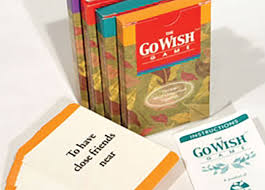 Go Wish gives you an easy, even entertaining way to talk about what is most important to you. The cards help you find words to talk about what is important if you were to be living a life that may be shortened by serious illness.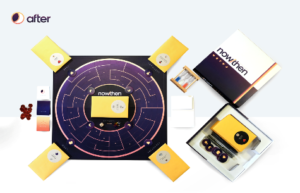 Now and Then is a game that guides you and your loved ones on a journey through your past, present, and future. As you roll the dice and explore the board, you'll discover challenges, some light and fun, others deeper. By the end of the game, you'll have made all the decisions you needed to get your affairs in order.
This list is by no means exhaustive! Choose from the list of games above and invite a few friends over to play some light-hearted games about dying. Have a memorable story to share about your game night? Email us about your experience and share a photo: conversationproject@ihi.org.
Comment below: what are some other games about death/dying that you would like to recommend?
Want to keep connected to The Conversation Project? Sign-up for our newsletter(s), follow us on social media (Twitter, Facebook, Instagram, YouTube) download our conversation starter resources and feel free to reach us at ConversationProject@ihi.org.
26 Responses