In the time that Tiffany Callender, Senior Program Officer with the Horizon Foundation, has been working with The Conversation Project, one thing has repeatedly taken her by surprise. "It's astonishing to me how many people feel like this is not for them," she says. She recalls sitting at a table at an annual 50-plus expo, giving out information about "the conversation." A woman passed and said, "I'm 87 and I'm still ticking, I don't need to think about that."
That's the attitude the Horizon Foundation, based in Howard County, Maryland is trying to change. The table at the expo was for Speak(easy) Howard, a campaign to help residents think through their preferences for care, talk about them with loved ones, and select a health care agent.
Tiffany Callender explains why the Horizon Foundation is leading community-based efforts to normalize end-of-life conversations.
A collaborative in the community
The campaign started, in June 2016, with a year-long learning collaborative facilitated by The Conversation Project and the Institute for Healthcare Improvement. Fourteen organizations participated, including primary care practices, assisted living facilities, the local community hospital, and faith communities of four different denominations (Catholic, Jewish, Baptist, and nondenominational). The collaborative involved three in-person meetings, as well as monthly check-in calls in between. The goal was to improve the rates at which residents of Howard County have their end-of-life care wishes expressed and respected, and the organizations tested and implemented different approaches to make that happen.
One of the participating churches, St. John the Evangelist Roman Catholic Church, got hundreds of parishioners to start conversations about their wishes for end-of-life care. Volunteers have organized conversation workshops, and priests have delivered homilies on the subject. "The faith communities with best engagement have been the ones where the leaders have gotten behind it," says Tiffany.
At one of the local primary care practices, Columbia Medical Practice, a clinician incorporated the conversation into Medicare wellness visits. She asked patients to come to their appointments prepared to discuss their wishes for end-of-life care and to complete documentation. She experimented with how to most effectively get their attention so that they would come prepared. First she mailed cards with this request, but found that the patients ignored them and threw them away, assuming they were junk mail. Then she started sending letters. This generated an only slightly improved response. Finally, she started highlighting the request in the letter in bright colors. This seemed to get people's attention: the percentage of patients who come prepared has risen from 18 percent to 50 percent.
A public campaign
After this collaborative ended, the Horizon Foundation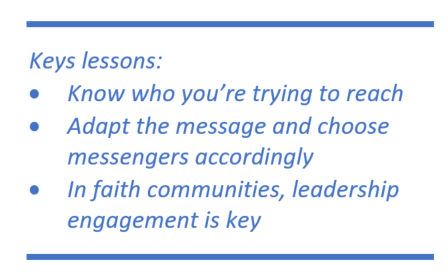 launched a large-scale public campaign in 2018 to encourage all Howard County residents to take two steps: talk about their care preferences and name their health care agent. They've brought in a marketing firm, shot commercials, and redesigned their website to be engaging and user-friendly. Visitors to the website initially see six quick questions designed to help them think through how they want their care to look. These questions, including some featured in the Conversation Starter Kit, include: "As a patient, what do you want to know about your care?" and "What makes you happy that would be important at the end of life?" The website also walks users through the process of choosing and naming a health care agent.
The Horizon Foundation and partners are getting out into the community to spread the word. Staff give presentations in a variety of venues, including senior centers, churches, regional meetings of financial planners and estate planners, and primary care practices. The team has also learned to buffer time for people who want to talk afterwards. "I've been able to put my social work degree into practice throughout this campaign," Tiffany says. "This topic touches everyone, and tears aren't uncommon while we're out having these conversations in the community. Now we know why the Conversation Project keeps tissues everywhere!"
Lessons learned
The Foundation has learned the importance of offering different options and adapting the message to reach different people. They note that there are some people who won't be turned off by the phrase 'end-of-life.' These individuals tend to be older and more focused on aging. By contrast, a healthy 45-year old single mother might not be thinking about end-of-life care.  To reach her, the messaging may need to be more along the lines of "Have you thought about the future?" or "Who's going to speak to you when you can't speak for yourself?"
The team hired an external firm, Marketing for Change, to help with their social media and email communications as well as web design. The communications are engaging, sometimes bringing humor to a subject that can often be quite serious. "If you're immortal, stop reading now," read one email. "(everybody else, let's get our act together)."
In thinking about one takeaway from the work in Howard County, Tiffany notes the important role faith communities have played, which highlights a larger principle that has guided their work. She advises, "Know who the messengers are that your audience is going to listen to, and then bring those messengers to the table."
Want to connect with Tiffany? Contact TCallender@thehorizonfoundation.org
You can learn more about Speak(easy) Howard at www.speakeasyhoward.org