Garrick Colwell was a natural fit professionally and personally to get involved in The Conversation Project (TCP). Since 1987, he had been a hospice volunteer. Then, four years ago, his wife was diagnosed with cancer, which helped him realize that "having that conversation about end-of-life wishes earlier versus later in your life is a gift of love you can give your loved ones."
Bringing the conversation to the community
He was not content to limit that realization to his own family; instead he was inspired to engage the entire Austin, Texas community in learning how to have "the conversation." In April 2017, he convened a group of 20 professionals, including nurses, social workers, a city council member, a pallia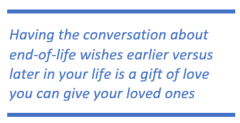 tive care doctor, and leaders of local organizations. They explored how they could help the community become "conversation-ready." By August 1, Garrick had incorporated his idea as a 501c3 nonprofit called Kitchen Table Conversations, under the guidance of Austin Community Foundation.
Garrick and his co-creators asked themselves, "What can we do to simplify the advance care planning process?" Drawing on TCP's starter kit and other resources, they created an educational series titled "The 3 Ds of Advance Care Planning – How to Decide, Discuss and Document Your End of Life Wishes™."
They have reached out to faith communities, thought leaders, and local organizations in Central Texas to host this series. These collaborations have resulted in dozens of presentations and workshops. "If you've touched one person, you've really touched four people," says Garrick. In nine months, he estimates, "We've probably touched 1500 people's lives."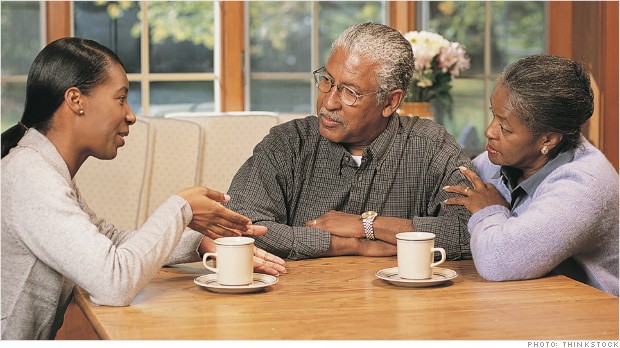 The key to their success, says Garrick, is to get people to have a conversation, "just as if they were sitting around the kitchen table at home sharing a meal and talking about life." It's important to Garrick that the workshops feel intimate, even when they're large. "We don't make slides, we don't have any visuals. The whole point is not to do that. The whole point is to have a conversation." While leading discussions, he typically sits, because he wants to feel
like part of the conversation instead of the leader. "We can still feel the intimacy at about 100 people," he says.
Forging partnerships
For a small nonprofit with minimal funding, it was crucial to form partnerships in the community. Kitchen Table Conversations has forged strong relationships with several local organizations, including Alzheimer's Texas, Funeral Consumer Alliance of Central Texas, St. David's Episcopal Church, and AARP of Central Texas. Each organization markets the workshops to their members, provides meeting space, and prints the workshop handouts. Kitchen Table Conversations also co-sponsors with Hospice Austin, screenings and discussions of "Being Mortal," the PBS Frontline documentary based on Atul Gawande's book.
Lessons learned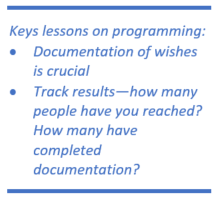 One lesson Garrick emphasizes is the importance of documentation. Having the conversation is important, but completing your directive to physician and medical power of attorney is crucial.  "If it's not documented," Garrick says, "you increase the chances of your end-of-life wishes NOT being respected and honored." That's why they devote one of their workshops to sitting with people as they complete their documents.
He also stresses the importance of getting health care professionals on board. He says that too many doctors and nurses believe talking about the end of life is an "admission of failure. We've got to reframe that so that it's about the cycle of life." Kitchen Table Conversations has been in discussions with Dell Medical School (at the University of Texas at Austin) about training second-year medical students in how to have these conversations. They are also talking with the Travis County Medical Society about how to bring this type of training to its members.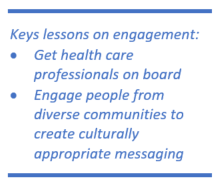 He also believes it's important to tailor the messaging to different groups to take into account cultural differences related to end of life. Austin is a highly diverse community, including Hispanic, East Indian, and Asian communities. Garrick is currently working to find people in each community who can tailor the workshop content to be sensitive to the values and customs of each culture.
Tracking results is important. "If you don't measure it, you can't manage it," Garrick says. "We ask all attendees to complete an evaluation and share with us if they have completed their advance directives. If not, then when in the next 30, 60 or 90 days do they plan to do so?"
In the workshop evaluations, the feedback has been enthusiastic. Attendees express "how empowered they now feel to have those end-of-life conversations with their loved ones and health care professionals," says Garrick.
Want to connect with Garrick? You can learn more about Kitchen Table Conversations at www.KitchenTableConversations.org. We invite you to like us on Facebook at KitchenTableConversations.org. If you have questions, please feel free to call Garrick Colwell at 512-787-3402 or email garrick@kitchentableconversations.org.
Comments are closed.