Looking for resources to encourage end-of-life care conversations in your community? Below are lots of tools and resources to help you – some developed here at The Conversation Project, and some developed in our TCP communities – all available to you for free.
---
---
Promote Your Message
---
Host an Event
Organizing an event about The Conversation Project (TCP) is one of the best ways to gain interest and help spread the mission of TCP. We've found that there's no typical audience for these kinds of presentations — we've seen successful events of every size and scope.
Possible Event Types
Presenting on TCP can take a variety of formats. Below are just a few of the formats that we've seen to be successful.
Overview of The Conversation Project: This is a general session where the presenter has the opportunity to give background information on TCP, basic statistics, strategy, and exciting news highlights. These can range from 15 minutes to an hour based on how much time you are given.
Conversation Starter Kit Workshop: In these sessions, participants take a deep dive into TCP's flagship resource, the Conversation Starter Kit. They fill out part of the kit in pairs/groups at the tables that they are sitting at. They are then charged to go home and use this as a starting point to having the conversation with their loved ones. These are often offered in two sessions — where the second session is a debrief of how having the conversation with their loved ones went.
Train the Trainer: These half-day to day long sessions give participants all the tools they need to be able to bring The Conversation Project to their home organization or community.
Plan:
Full-day Meeting Agenda Template: A template agenda that you can adapt for your own events.
Presentation Checklist: A checklist of all the things to consider before, during, and after an event.
Materials for Reaching College Students
TCP Tips and Resources: a set of resources to support student leaders or others who want to host a TCP event on their campus.
Let's Talk About Death by Isabel Merrin: In her TEDxTufts talk, Isabel Merrin tackles ideas about death and dying, and why young people are so afraid to have these tricky conversations.
Hosting and Organizing Events for Employers: Tips for hosting events for employers
Checklist for Employers: A guide created by C-TAC for employers to support their employees who are caregivers.
Example Training Participation Form (for train-the-trainer sessions): An example of how the East Bay Advance Care Planning Project trained individuals in their community to promote advance care planning.
Faith page: A page of resources dedicated to bringing The Conversation Project to faith settings.
Publicize:
Event Poster Template: Coming soon — A template for creating a custom event poster.
Example Event Flyer: Sample flyer from the team in Central Florida to promote a kickoff event.
Press Release Template: an editable press release to promote a TCP-inspired event.
Invitation to a Training Event Template: Sample language to invite people to a train-the-trainer session.
Facilitate:
Speaker Trainings: View upcoming and recorded virtual speaking training sessions.
Conversation Starter Kit Facilitation: Suggested agenda and timing recommendations for facilitation of the Conversation Starter Kit
Coaching the Conversation Guide: A guide on how to facilitate the conversation about end-of-life care among event participants.
Role Play Activity: A role-playing activity about having the conversation with your loved ones. Created by TCP in Boulder County.
Facilitation Guide Without PowerPoint/Video: A guide for facilitating an event without PowerPoint presentations or videos. Created by TCP in Boulder County.
New! When the Lights Go Up: a general guide for people to get started after watching a movie (or reading a book) related to advance care planning.
Example Movie Discussion Series: a flyer from a program hosted by The Conversation Project in Boulder County.
Being Mortal Discussion Guides
Discussion Guide for "Being Mortal": Excerpts from Atul Gawande's "Being Mortal" and how they relate to the steps of TCP's Conversation Starter Kit. Created by TCP in Central Florida.
"Being Mortal" Book club guide: A guide into discussions of end-of-life care wishes using Atul Gawande's acclaimed book "Being Mortal." Created by TCP in Boulder County.
Present:
TCP Standard Slide Deck: A customizable slide deck for a presentation on The Conversation Project.
New! TCP Standard Slide Deck in Spanish
Videos to consider adding to your presentation
ABC World News with Diane Sawyer: a great introduction to TCP from Diane Sawyer of ABC World News.
A Soul Doctor and a Jazz Singer: Dr. Lachlan Forrow, MD, advisor to The Conversation Project, talks about what it means to his patients to have a good day. One terminally ill patient, Dolly Baker, says that for her a good day is one where she is able to sing.
Practice Makes Perfect: We know that starting conversations about end-of-life care wishes with your loved ones can be hard, and we are here to help. (Spanish subtitles available.)
Who will speak for you?: Choosing a healthcare proxy/agent is one of the most important decisions you'll ever make. We're here to help. (Spanish subtitles available.)
Don't Panic — It's Okay: A Letter to Loved Ones Making Difficult Choices: Dr. Karen Boudreau of IHI reads a letter she wrote to her family to offer guidance in case they ever need to make difficult decisions at the end of her life.
Alternatively, here is a written copy for you to read: Don't Panic Letter
A Family Way: Do your loved ones know what your wishes are? A video funded by the Pennsylvania Department of Aging and produced by the Take Charge Partnership.
A Friend in Need: Who should make decisions about your care if you are unable? A video funded by the Pennsylvania Department of Aging and produced by the Take Charge Partnership.
Print Starter Kits: we highly encourage you to bring printed starter kits to your presentation. You can download the PDF and print yourself (or at a local printer) or purchase professionally printed copies via our Online Marketplace. The marketplace includes option to co-brand, print in black and white (at a lower cost), and order additional languages.
Bring stories to share: Bring your personal stories. View our story bank if you need some additional inspiration or content to pull from.
Evaluate:
On-Site Event Evaluation Form: A form to collect feedback from the participants at the end of your event.
New! On-Site Event Evaluation Form in Spanish
Commitment Cards: Cards to hand out at the end of your event encouraging individuals to commit to having the conversation.
Progress Tracker: a tool for tracking your partners, your activities, and your reach.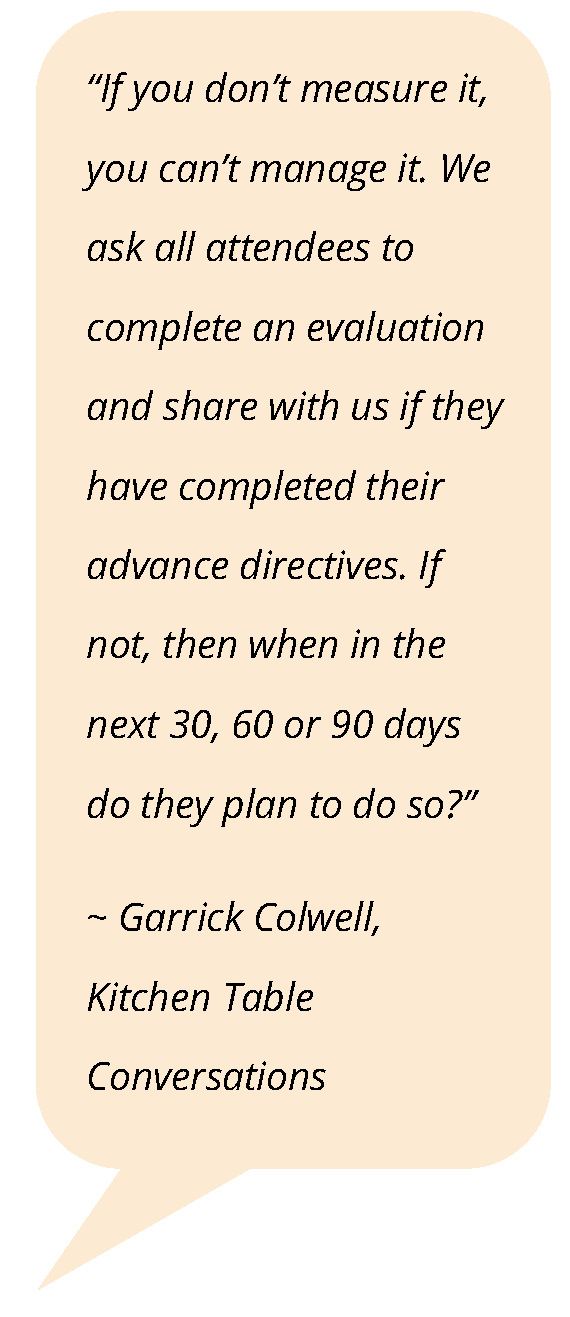 ---
Bonus Content
Glossary of ACP terms: a list of common advance care planning terms created by Conversations of a Lifetime.org.
Advance Care Planning Checklist: A step-by-step guide for advance care planning. Created by Frederick Memorial Hospital.
Offer to Facilitate a Workshop: An editable flyer to propose hosting a starter kit workshop in your community.
National Healthcare Decisions Day (NHDD): A national initiative promoting advance care planning each April, supported by The Conversation Project.
Death Over Dinner: An organization dedicated to encouraging individuals to talk about death by hosting a dinner dedicated to it.
---
Additional Support
Community calls: Live and recorded webinars on presenting TCP, community planning, and other suggestions for encouraging end-of-life care conversations in your community.
Sign-up for our Newsletter: Updates, opportunities, resources, and stories that can help you engage your community with The Conversation Project.
Connect with Others: View our Conversation Champions Map to connect with others doing similar work in your area.
Contact us: if you have feedback or additional questions email us at conversationproject@ihi.org.