---
This guide is designed to help faith community leaders introduce The Conversation Project's mission and free resources in the communities they know and serve. It is filled with examples of how diverse faith communities are encouraging their members to engage in thoughtful reflection and have conversations about their health care wishes through the end of life with those that matter to them and health care providers

Also see our Getting Started Guide for Communities for additional ideas about who to engage and how to introduce the importance of conversations into your community. And our Tips for Facilitating and Teaching about The Conversation Project.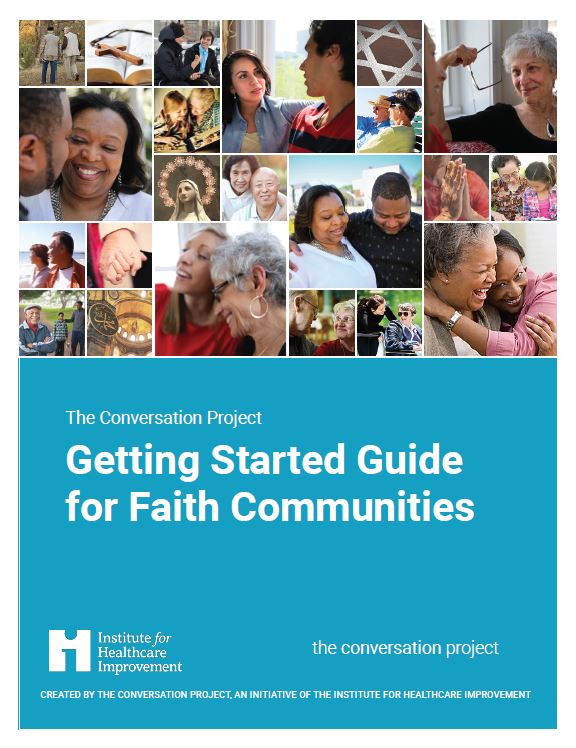 ---
Preaching
Sermons
Programs
Conversation Sabbath

An invitation to clergy to teach and preach about the importance of having The Conversation. Rather than specify certain dates, we encourage you to pick a time frame that works for your community to host a Conversation Sabbath. To get started…
Case Studies
Pastoral Care
Webinar Series: Bringing Advance Care Planning Conversations to Your Congregation
Congregations are ideal settings for beginning to talk about what matters most to people when it comes to making decisions about the kind of health care they want and don't want in the face of very serious illness. For six weeks, The Conversation Project's advisor to faith, Rosemary Lloyd, hosted a free, web-based course on how to infuse having conversations about crucial, values-centered health care decision-making into the life and work of faith communities.
To access the webinar recordings and slides, please click the links below:
Session 1: The Conversation Project: Reaching People Where They Live, Work, and Pray
Session 2: Getting Started in Congregations: Pause, Reflect, Assess, Set a Goal
Session 3: Sermons and Teaching & Conversation Sabbath
Session 4: Pastoral Care
Session 5: Programming Advance Care Planning in Your Setting
Session 6: Bringing It Together and Bringing It to Your Congregation
---