Click here to download a guide specific to COVID-19. With the generous support from the Cambia Health Foundation, The Conversation Project and Ariadne Labs teamed up to create this new tool to help people take action and be prepared. We can't control how this pandemic plays out. But we can control who speaks for us if we're unable to speak for ourselves, and we can take the time to make sure they know what matters most to us. Have this conversation today.
This guide can also be downloaded in Spanish here.
This work is licensed under a
Creative Commons Attribution-NonCommercial-ShareAlike 4.0 International License
.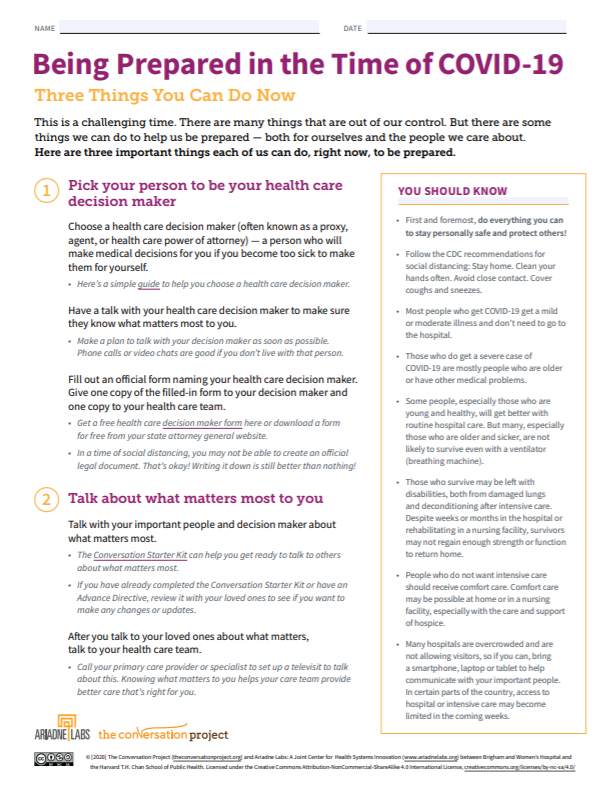 Unsure how to start a conversation with your loved ones about your wishes and what matters most? Check out this blog post on Thoughtful Icebreakers That Lead to Meaningful Conversations for ideas and samples of ice breakers you can use to broach this important topic.
Choosing a health care proxy – the person who will make decisions about your medical care if you become unable to make them for yourself – is just as important today. This user-friendly guide offers facts and tips necessary to make sound decisions about choosing a health care proxy.
Additional Resources
There's a saying we often use on The Conversation Project team: "never worry alone." This idiom is meant to encourage one another to express our concerns, if any, and to let our peers know how they can best support one another during challenging times. When we act on this sentiment, our team grows closer and our anxieties often subside. In the wake of COVID-19, we know there are many people who are experiencing different levels of anxiety. Well, we're here to tell you that you don't have to worry alone. We've compiled a sampling of resources to help you take care of yourself and others during this time. And, as you keep socially connected, we hope these resources will help you think through what matters most to you when it comes to medical care and help you talk about this with those that matter most to you. We hope these resources put your heart at ease.
Manage Anxiety and Stress
Help for Older Adults and Family Caregivers
Talk with Your Children
Discuss Care Wishes and What Matters Most
Articles
Blog posts
Planning documents & websites
Resources for Healthcare and Community Groups
Papers
We know this isn't an exhaustive list and there are many more resources to help. We will be updating this list as a living document and will be sharing new resources our team currently is developing to help you share what matters most. We are all in this together.