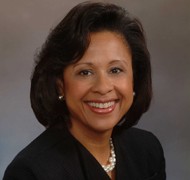 "I view "the conversation" as conversations about how we wish to lead our lives, both in health and when faced with illness."
~Paula Johnson, MD
Paula Johnson, MD
Advisor to The Conversation Project
Having the conversation has been very important to my professional life and my personal life. As a physician there's this interplay of the personal informing the professional and professional informing the personal. We are so privileged to enter people's lives and to be part of their decision-making.  My conversations with patients help to inform my life and at the same time, the conversations I have had with loved ones help me connect with my patients.
At times of crisis it has been very important to know the wishes of my family members, including my parents. It's critical to have these conversations when you are not in the middle of the crisis because it's when you do your best thinking. It's when we can reflect on our hopes for ourselves and our families, when we are not pressured with immediate decision making. When people hear the need for "the conversation" they immediately think of conversations about "life and death" decisions. But I view "the conversation" as conversations about how we wish to lead our lives, both in health and when faced with illness.
As a physician, having these conversations with patients is complicated, there's a lot of emotion involved, family dynamics, and often, a lot of heartache. It makes it easier when families have already shared their wishes with each other. If the groundwork is laid, it makes initiating the conversation so much easier. You are picking up where the last conversation left off—rather than starting with a blank slate.  We all need to have the conversation(s).
Dr. Johnson is recognized as a national expert in the area of defining and understanding the quality of cardiology care for women and minorities, with a particular research focus on understanding disparities in health care for women and minorities. She founded the Center for Cardiovascular Disease in Women at Brigham and Women's Hospital, which is dedicated to developing new sex- and gender-specific strategies for prevention, treatment and rehabilitation of coronary heart disease in women.
Dr. Johnson is a graduate of Harvard and Radcliffe Colleges. She received her MD and MPH degrees from Harvard. She completed her residency in Internal Medicine at Brigham and Women's Hospital, where she also completed a fellowship in cardiovascular disease and served as Chief Medical Resident.