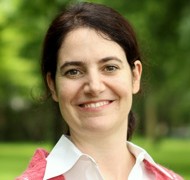 "If I had to make decisions for any of them I feel like I would have a solid starting point, and all it took was that one conversation."
~Jessica McCannon, MD
Jessica McCannon, MD
Advisor to The Conversation Project
"I am too young for this!" I thought. After all, I am surrounded by the infinite energy of my toddler. The voice inside my head is about twenty-five years old. My parents are forever fixed in my head at age fifty or so. But I also know that being young or young at heart does not protect against unexpected illness. And despite having helped many families navigate these conversations in hospitals and intensive care units during my medical career, I had not had the conversation with my own family.
We have a lot more talking to do, but even now I feel armed with a much greater sense of what is important to each of them.
The birth of my second child prompted our conversation. My husband and I have often reflected that there was something bittersweet about the birth of our sons — with their joyful arrival came awareness of our own mortality and realization that future loss would be multiplied somehow. If we lose a parent, it means our children loses a grandparent. If I die, I die not only as daughter and sister, but also as a parent.
Our conversation meandered all over the place. We talked about some logistical things — I articulated my dream of leaving an itinerary for my boys so that they could travel and sprinkle my ashes in all the places that were significant to me. We reflected upon functional abilities — my husband stated: "If I cannot contribute to our sons' lives in a meaningful way, or communicate articulately, I don't want to be here."
My brother articulated that if he were to experience an acute event in his current state of health, he'd want us to try everything that modern medicine had to offer. "Give me a fighting chance," he said. My father, who has seen his mother and aunts ravaged by dementia and fears the same for himself, made it clear that he did not want us to prolong his life unnecessarily, "especially if I can't recognize any of you."
I was almost certain that my mother, a less-is-more kind of person in general, would be clear about limitations in treatment, but her single statement instantly clarified that for me. She said, "As long as I can read, I can tolerate other disabilities, at least for a while."
These are all simple statements, but with worlds of meaning. We have a lot more talking to do, but even now I feel armed with a much greater sense of what is important to each of them.
If I had to make decisions for any of them I feel like I would have a solid starting point, and all it took was that one conversation.
Dr. Jessica McCannon is board-certified in internal medicine, and is in her final year of Harvard's Clinical and Research Fellowship in Pulmonary and Critical Care Medicine. After completing her internal medicine residency training at Massachusetts General Hospital, she began providing care to adults at the Mass General Hospital Down Syndrome Program. She received her BA from Cornell University.