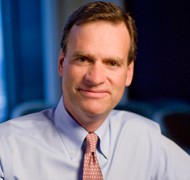 "She needed her doctors to listen to her, to understand her personal definition of quality and to respect her end-of-life wishes…"
~Mark B. Ganz
Mark B. Ganz
Advisor to The Conversation Project
Everyone has a personal story about the end-of-life experience of a friend or loved one; it's something that touches us all, and changes us profoundly.
My mother was the soul and the epicenter of our family.  She was a remarkable woman with a keen sense of humor and a compassionate heart.  Her early childhood was shaped by the difficulties of the Great Depression, and through hard work and determination, she went on to become a top student and an accomplished pianist.  She married my father in 1950, the same year she graduated from college with honors and a degree in English literature.
My mother was a very spiritual person and a devoted Catholic.  She spent most of her adult life raising six children, inspiring our love of learning, our faith in God and our sense of accountability and service to the community.
Following my father's death in 2004, my mother's health started to decline.  She died in November of 2009 after a long battle with heart and lung disease.  She was 81 years old, and she had come to peace with her illnesses as her treatment options were exhausted.  She faced death with serenity and grace.
During the end stages of my mother's life, my siblings and I felt as though we were forced to arm-wrestle with the hospital staff to avoid unnecessary tests and invasive procedures that would not change our mother's outcome. Fending off unwanted tests and procedures added to my mother's suffering and created distress for our family.
Thinking back, I realize that what my mother really needed was palliative care. She needed her doctors to listen to her, to understand her personal definition of quality and to respect her end-of-life wishes even as they worked to reduce the severity of her symptoms and alleviate her pain and suffering.  That would have been the best care possible for her.
When we created Cambia Health Foundation, the founding board members knew that we had to focus on something that inspired both individual and collective passion.  We chose palliative care not only because it mattered to us but also because it had the potential to transform the way in which Americans experience the health care system.
At the Cambia Health Foundation, we believe that palliative care is deeply personal and fundamentally rooted in respect for human life.  It involves honoring patient choices and understanding personal definitions of quality, rather than merely focusing on the clinical aspects of terminal illness.  Palliative care focuses on living with quality rather than dying from illness.  It involves caring for seriously ill patients and their families, helping them to have difficult conversations and respecting the choices they make.
Changing the end-of-life experience for patients and their families is what motivates our efforts and gives us passion. The more we can create a national conversation and awareness around this issue, the better off people will be in the experiences they have with our health care system, with their families and with each other.
Mark Ganz is president and CEO of Regence, a non-profit health care company and the largest health insurer in the Northwest serving Washington, Oregon, Idaho and Utah. His professional affiliations include serving on the boards of the Blue Cross and Blue Shield Association and America's Health Insurance Plans. He chairs the Aspen Institute Health Stewardship Project and Greater Portland, Inc. a regional economic development corporation. Ganz earned both his undergraduate and law degrees from Georgetown University in Washington, D.C.