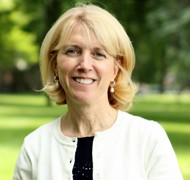 "When my brother was diagnosed with colon cancer at 39 years old, I never thought he would die from the disease."
~Gail Freeman
Gail Freeman
Advisor to The Conversation Project
When my brother was diagnosed with colon cancer at 39 years old, I never thought he would die from the disease. He lived with cancer for six years, facing recurrences and the relentless spread to his liver, spine, brain, and lungs. While the journey was grueling, Carl made it clear to us all that he would wring the most out of life between surgeries and treatments — and he did. He ran two marathons, coached soccer, worked as much and as long as he could, and relished the moment after each surgery when he would once again be strong enough to walk his youngest daughter to school. While there was still hope, we all knew Carl's choice was to pursue every option. What we never talked about were his specific wishes when all courses of treatment had been exhausted. I know that I, for one, worried that Carl might feel it would be too hard on us to have that discussion, and we never did.
Carl agreed that it was time to rest from all the treatments.
In the end, after many years and countless treatments, Carl started to experience increasing pain that became difficult to control. Fortunately for all of us, he was one of the lucky ones because he was in the care of an intuitive and compassionate health care team who knew him well and knew the point at which treatment would be a cruelty rather than a kindness. When his team suggested hospice, Carl didn't feel alone; this team that had supported him and his goals through most of his cancer would guide him through the next phase of the journey as well. Carl agreed that it was time to rest from all the treatments. My brother spent the next few days surrounded by family and friends who blanketed him in love and treasured every last moment until he died, less than a week after treatment stopped, at home with his family.
I would like to think that everyone who faces the end of their life will be so exquisitely cared for and will die in a way that keeps with their wishes, in the care of those who love them. It was a big risk that we left the conversation unspoken. If I had it to do over, I wouldn't ever take that gamble again. That's why this week I had the conversation with my parents over the kitchen table about not only what they would want at the end of their lives but also what I would want for myself. It wasn't as hard as I thought. I guess all three of us know from experience the importance and gift of a good death.
Gail Freeman, Vice President of Marketing and Communications, joined the Institute for Healthcare Improvement in June 2010 with more than 20 years of experience in marketing and communications. Prior to joining IHI, Freeman was Senior Director of Corporate Marketing at RSA, the Security Division of EMC, where she oversaw corporate communications initiatives that enabled RSA to gain recognition as a leader and respected brand in information security. Her experience also includes roles as Director of Marketing for Wellspace, Inc., the Northeast's largest alternative health care center, and as Marketing Manager for Microsoft Corporation, where she helped launch Sidewalk.com, a website listing local events and information in numerous cities.