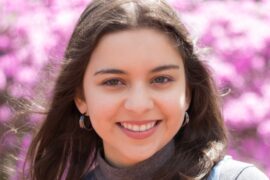 Conversations surrounding end-of-life care and wishes become relevant at some point in every person's life. They became prevalent in my own life as my family and I began to navigate my grandmother's pancreatic cancer diagnosis. Being part of an initiative that strives to provide free resources for people of any faith, culture, and background has been a great source of hope and ease through the conversations with my own family.
~Laura Rodríguez
Laura Rodríguez
Associate Project Manager
Laura joined TCP as an Associate Project Manager in October 2021. In her role, she designs and creates content along with social media copy for TCP's three main social channels: Instagram, Twitter, and Facebook. She tracks metrics on a weekly and monthly basis for these three platforms and assists with updating and posting website content, including occasionally translating guides and other free resources on TCP's website from English to Spanish. Part of her role also includes assisting with designing and disseminating the TCP newsletter. Laura has an undergraduate background in International Affairs and Journalism, along with a Master's in International Affairs with a focus on Public Policy in Latin America from Northeastern University.