My husband's first heart surgery was as a teenager. It gave him many healthy years, a rewarding career and adventures that most people could only dream of. Decades later, he had two emergency heart surgeries within three weeks from cascading issues related to congenital defects.
His cognitive abilities suffered from those surgeries. With time and hard work, he recovered much of his brain function, but never to prior capacity. However, with his indomitable spirit – and a cardiologist who listened and honored his values—Bill lived a remarkably good life.
My experience as his caregiver in the complex maze of healthcare convinced me that we need to get serious about weaving advance care planning (ACP) into our social fabric, not only for older populations but also for young people, to ensure better outcomes in end-of-life care.
Bill's death sparked me to action.
Organizing NHDD 2018 Events
I've organized many events, including The Realities of Advanced Medical Interventions which has reached over 2,200 people. This event provided attendees with information about ACP, choosing a reliable healthcare agent, advance directives, and understanding what a POLST is.
In 2018, supporting National Healthcare Decisions Day (NHDD), I conceived a program called "What's up, Doc? We're dying to talk." Promoted as an intergenerational conversation featuring 7-minute vignettes related to mortality, the speakers represented people from ages ranging from their 20's through their 90's. To generate student interest, I raised $7,500 and divided those funds into five $1,500 scholarships as door prizes.
Initially, when I described the plans, skepticism abounded. One person said, slapping the table for emphasis, "Good luck! We've been trying to interest older people in this [ACP] for years, and you expect young people to show up!" I did not let this waver me—I continued to move forward with my plan.
Because humor is the great equalizer, I booked an improv theatre professional as master of ceremonies. Gratis! There was laughter, tears, fun, live music, food, and friendship.
Sure, the culturally and racially diverse, overflow crowd was lured by the scholarship prizes, but the event was a measurable success. Students remarked that they would tell their parents what they want: "We will have the conversation." "Wow, this is important stuff." "Now, I get it!"
One of the scholarship winners, a nursing student, subsequently attended an ACP workshop with her boyfriend, both completing and notarizing their advance directives. She intends to become a certified volunteer ACP facilitator after graduation this spring. Another winner, a member of the Lummi Nation, reported in the Northwest Indian College student newspaper, "the event opened up a dialogue on campus."
Planning for NHDD 2019
Supporting NHDD 2019, I have proposed a lead-by-example campaign: "I've Got Mine!". This campaign is in collaboration with PeaceHealth Medical Group. I've taken myriad photos of physicians, nurses, chaplains, hospital and hospice volunteers, prominent community members, a superior court judge, county medical examiner, and others holding up their advance directive, illustrating that they have documented their end-of-life choices. Their photos will be displayed on a "testimonial wall" at PeaceHealth St. Joseph Medical Center leading up to April 16.
A local nephrologist and I have secured a commitment from Bellingham's mayor and the Whatcom County Council Executive to issue a joint proclamation declaring April 16 as Bellingham – Whatcom County Healthcare Decisions Day. We're using community billboards around the county to promote the day. My husband's cardiologist agreed to a billboard as a persuasive testimony of provider buy-in. Whatcom Transportation Authority agreed, on a pro bono basis, when I asked for signage on WTA busses. Local firefighters IAFF chapter will post ACP-related messages on their electronic billboard. Our trash/recycling service will post an NHDD message on their high-visibility reader board, as will a community-oriented credit union. And, so on…
A local filmmaker and I co-produced a video titled "Have the Conversation" now used by numerous organizations. PeaceHealth posted it on their ACP web page, hospice groups in Canada share it with their audience and Providence Health & Services ACP facilitators use it in their work as examples.
Also, in support of NHDD, at my urging, a local musician composed a catchy tune that we used as the soundtrack for this short I've Got Mine! video.
As a volunteer advocate, I've faced obstacles and frustrations in trying to mainstream the ACP message. The most disappointing experiences have been collaborating with large organizations. Some entities seem so entrenched in processes and procedures that they are incapable of understanding or being touched by the subtle –and not so subtle – ways they provoke discouragement. History validates that the seeds of change are in the grassroots — change is rarely top-down—though it is essential to develop, and nurture, alliances with all stakeholders.
A most gratifying payoff to my persistence is that Nathan Kottkamp, founder and chair of nhdd.org, called me personally with an offer to visit Bellingham for NHDD 2019!  
Now, that's a success! We look forward to welcoming him!
---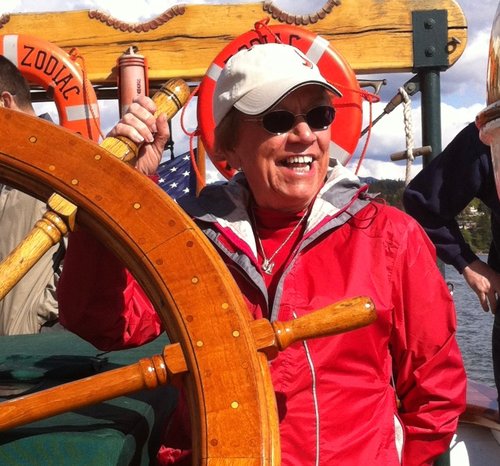 Micki is a lifelong advocate for peace, justice, equality, inclusion, and equity. In addition to her work in improving healthcare, she is a member of the Friends Committee on National Legislation Bellingham Advocacy Team. She honors her wonderful husband every day — his memory lights her path when things look bleak. Micki believes that young people are the future — and that we should never lose sight of our responsibility and obligation to honor them through our actions.