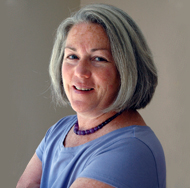 "I wish we had had the conversation as a family, together, understanding that her wishes should prevail."
~Martha Hayward
Martha Hayward
Lead for Public and Patient Engagement, IHI
In my family we have a long history of tragic, sudden death and very long lives well lived with death coming peacefully in sleep. The advantage these two types of death offer the family is that we have never had to have the conversation. Tragic deaths take away any control and decision-making, and force everyone to deal with the reality. Good deaths coming with peace have left us all with a sense of closure and connection.
"Tragic deaths take away any control and decision-making, and force everyone to deal with the reality. Good deaths coming with peace have left us all with a sense of closure and connection."
My mother has always said, "If I end up like that put a pillow over my face." Having held executive positions at Mass General Hospital, Harvard Medical School, and BU School of Medicine she was more than familiar with the realities of death in a hospital setting. She wanted nothing to do with any of it. But life has handed us some challenges. After a spinal fusion operation at age 80 my mom's health declined. There were falls that put her in the emergency room with 4–6 day hospitalizations following. I think there were eight emergency calls in a six-month period. Each episode lowered her capacity physically and emotionally. Urinary tract infections were also contributing to her being confused with little or no memory or understanding of where she was. During her last hospitalization she was in the ICU with sepsis. My sister and I met with the doctors at her bedside to hear the news that without aggressive medical intervention she would not survive. She was intubated, receiving liquids and pain meds.
I saw this moment as an opportunity to do what my mother had always asked. Release her from her increasing debilitation. Allow her to die. My sister agreed but simply said, "But I am not ready." I was. I believe my mother was. But my sister was not. The doctor was prepared to remove the intubation tube, keep Mom comfortable and allow her death. But my sister was not ready and asked that everything medical be done to strengthen her. Increase fluids, keep the tube breathing for her, and give antibiotics. Three days later she was moved to a floor, breathing on her own, semi aware with no physical capacity.
One year later my mother lives in a nursing home. Her mind is acute and active. Her body is weak and failing. She is experiencing visits from friends and family, a love relationship with a boyfriend 93 years old, and the pain of knowing that she will live out her days in a nursing facility. Her worst nightmare.
My mother had had the conversation with me: "Please don't let anyone keep me alive if I am going to lose my independence." But she had not had the conversation with my sister. As my mother lives out her days she receives excellent medical care, which keeps her out of the hospital. But she is completely dependent. I am grateful for her mental acuity. I have been able to share a lot with her including the experience of being part of The Conversation Project. But I struggle every day with the fact that she is living exactly the way she never wanted. The cost of her care has eaten all her assets. My grandfather's legacy and hers are paid down monthly and will soon end with her being dependent on Medicaid.
I wish we had had the conversation as a family, together, understanding that her wishes should prevail.
Martha Hayward joined the Institute for Healthcare Improvement (IHI) in March 2011 as the Lead for Public and Patient Engagement. A cancer survivor, she is a founding board member of the non-profit Women's Health Exchange and served on the Patient and Family Advisory Council of Dana-Farber Cancer Institute in Boston. Her career experience includes over 20 years in marketing and fundraising in the areas of health, politics, and education. Most recently, as Executive Director at The Partnership for Healthcare Excellence, Hayward brought a particular focus on, and considerable experience in, the area of patient advocacy.